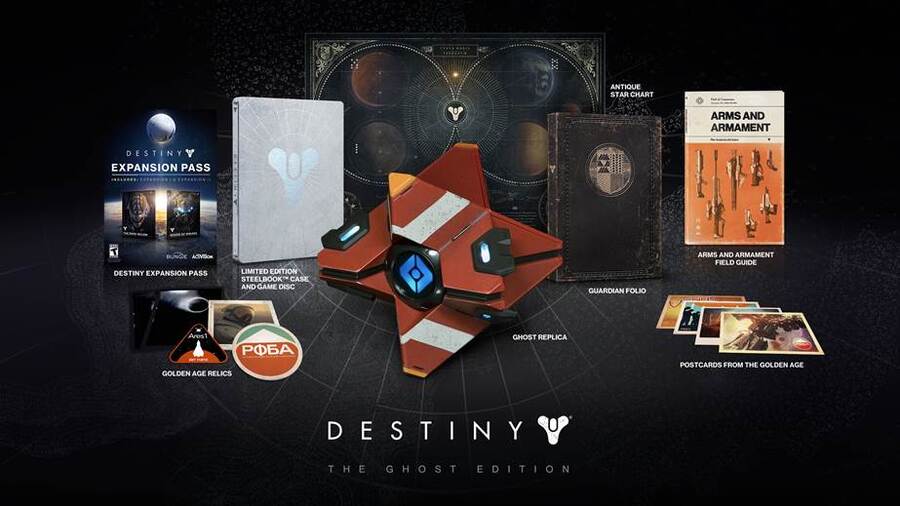 Bungie is apparently big enough to take ownership of 7th July, and so it's decided to drop a bevy of details pertaining to its impending first-person shooter on this so-called Destiny day. In addition to the beta video found right through here, the company has also revealed a handful of premium packages, which are set to deploy on 9th September alongside the game. Why only spend $59.99 on a new title, when you can throw even more money at it? There's a lot to get through, so let's get started.
First up, there's the Limited Edition, which will cost you a measly $99.99. This comes with a copy of the sci-fi affair in a steelbook case, as well as a 'Guardian Folio', including information on the many arms and armaments that you'll uncover in the game. You'll also nab some postcards from the 'Golden Age', as well as an antique star chart, in addition to some bonus in-game items – including a unique Ghost Casing, an exclusive player emblem, and a ship skin.
Is that not enough for you? Then fortunately there's the even more expensive Ghost Edition to empty your wallet. Retailing for $149.99, this will come with all of the above, in addition to a Replica Ghost, which will feature the various lights and voice recordings from the game. You'll also get some 'Golden Age' relics, including a patch, sticker, and "two chrome slides of the Traveller". Furthermore, both sets will include access to the Destiny Expansion Pass.
This is basically a Season Pass for the title, and will grant access to "two brand new story missions, co-operative activities, competitive multiplayer arenas, and a wealth of all new weapons, armour, and gear to earn". At the time of typing, we only know the names of these add-ons – 'The Dark Below' and 'House of Wolves' – but it's safe to assume that they're going to be fairly meaty additions. Presumably you'll be able to purchase this separately if you prefer.
Last but not least, if you're planning to pick up the title from the PlayStation Store, you'll be able to plump up for the Digital Guardian Edition, which will include the Destiny Expansion Pass, as well as all of the digital content described in the abovementioned premium packages. No word on a price for that just yet, but it should be a little bit cheaper than the Limited Edition considering the content included. Are you going to upgrade to one of the more expensive options detailed above, or stick with your vanilla pre-order? Do your Dinklage impression in the comments section below.
[source blog.eu.playstation.com]