Should you pick College or G League in MyCareer in next-gen NBA 2K22? At the very beginning of your MyCareer campaign, Ricky will encourage you to choose how you're going to start your basketball career: at College or in the G League. You'll then need to meet with some familiar faces from the franchise, including Che and A.I., to learn more about each path. As part of our NBA 2K22 guide, we're going to help you to decide whether to pick College or G League in MyCareer. This is the first major decision in the game, but later you'll need to pick an agent. You can find out more about whether to choose Palmer Athletic Agency or Berry & Associates in MyCareer through the link.
NBA 2K22: College or G League in MyCareer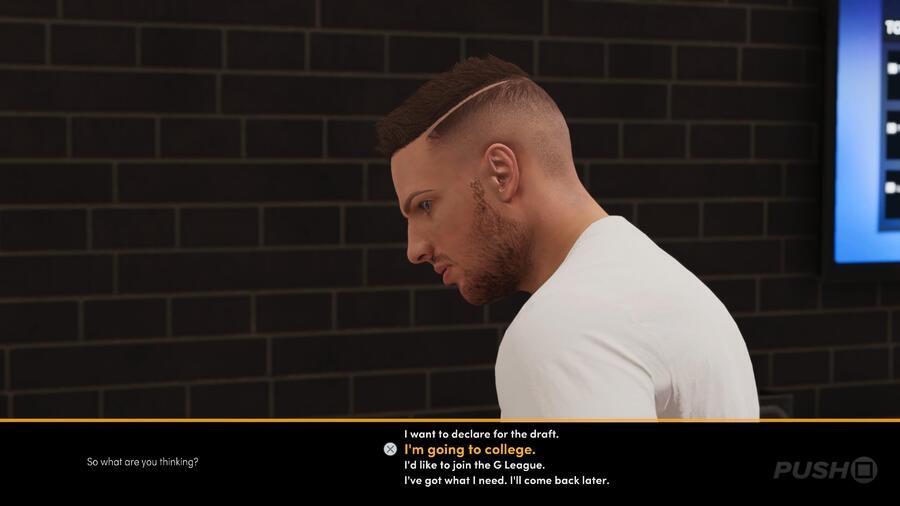 You should think carefully before you pick College or G League in MyCareer in NBA 2K22 on next-gen. This is because certain paths will potentially lock out other ones. If you're in a rush to reach the NBA then it's worth remembering that you can declare for the draft and skip both options, but you'll be picked in the second round with a low Salary. You'll also skip out on crucial opportunities to earn Badge Points and generally build your career.
College
There are a number of advantages to starting out in College, but the main one is the opportunity to earn Badge Points by winning the national championship. You'll also gain more fans, raising your draft prospects, and thus leading to a higher Salary.
Here are all the advantages to College:
Jump directly into the single-elimination tournament and earn additional Badge Points by winning the national championship.
Gain more fans by playing on a national stage and proving you're a top prospect.
Earn attribute boosts for the tournament by attending practices that teach you key skills for your build.
Maintain amateur status, allowing you to sign with the G League after College. You cannot attend college after going to the G League.
It's important to note that if you do choose College, then you'll also need to pick a school. You'll want to pick a program that benefits your build, as any Badge Points you earn will be assigned based on the team you select. Pick a school that complements your MyPlayer. For more information on that, refer to the Best Builds for MyPlayer and MyCareer.
G League
As the G League is a competitive league filled with NBA ready talent, starting out in it will help you to prepare better for once you're drafted. You'll begin to build your Personal Brand here, and thus start earning VC (See Also: How to Earn VC without Spending Money), allowing you to boost your Attributes and purchase items in the City.
Here are all the advantages to the G League:
Earn a permanent 5% MyPoints accelerator to speed up the process of upgrading your MyPlayer.
Pursue endorsement opportunities on off days to earn VC and start building your Personal Brand.
Prepare yourself for the league by playing against NBA-caliber talent.
Meet with the press to take control of your narrative and practice your interviewing skills.
It's worth noting that if you select the G League, you won't have the opportunity to go to College at a later date, so you'll potentially be missing out on Badge Points and some plot beats that occur along the way.
College or G League: Which to Pick?
Whether you pick College or G League in MyCareer will depend how quickly you want the story to progress. We'd recommend you play through College first in order to unlock the Badge Points and begin boosting your MyPlayer. Then once you've finished that, you can work your way through the G League without missing anything out.
Obviously if you're eager to get to the NBA and start progressing your career — albeit with a low starting Salary — then that's your prerogative, but you'll be missing out on a lot of story beats and opportunities to level up your MyPlayer if you take that path. Ultimately, it's up to you, but we'd strongly suggest you start with College, then the G League, and then declare for the NBA Draft.
---
Did you pick College or G League in MyCareer in next-gen NBA 2K22? Check out our NBA 2K22 guide for more information, and let us know which path you selected in the comments section below.