For the competition players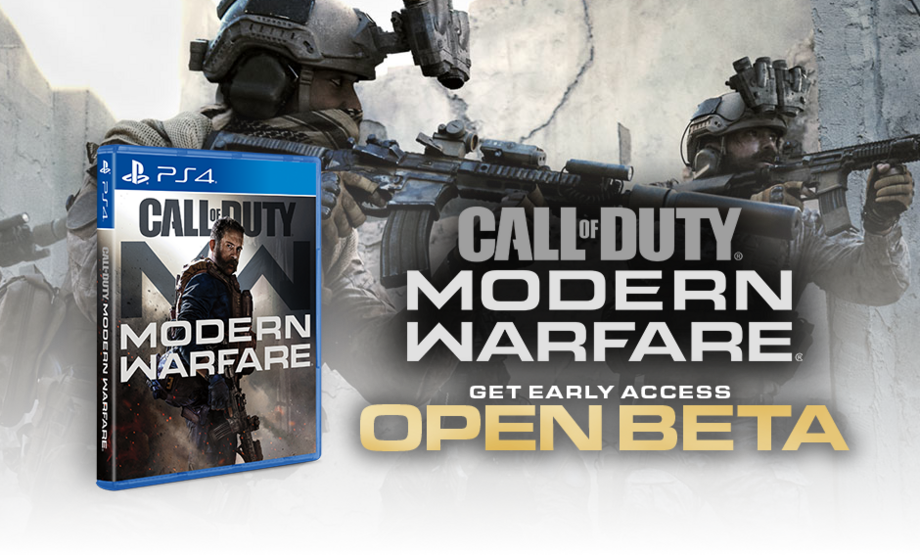 The Call of Duty: Modern Warfare Open Beta is your chance to go hands on with Call of Duty: Modern Warfare and provide essential feedback to help ensure the best Day One experience possible when the game launches later this year.
Weekend 1 of the Beta is exclusive to PlayStation 4 this coming weekend (Sept 14-16) and those who have already pre-ordered the game will also have Early Access on Thursday & Friday (Sept 12-13).
If you haven't pre-ordered yet, our friends at Activision have kindly provided us with 50x UK Modern Warfare Beta Early Access codes that we're thrilled to be able to give away to you, the loyal UK & Ireland Push Square readers.
All you have to do is answer the cryptic competition question to be in with a chance of getting a code. We'll start issuing 10 codes per hour from 7pm (GMT) on Wednesday, until all codes have been assigned.
About The Prize
These Call of Duty: Modern Warfare codes allow access to the closed BETA which begins on the 12th/13th as a PlayStation exclusive and also the following weekend of the 1th/20th for PlayStation, Xbox and PC.
Find Out More
The all-new title, published by Activision and developed by Infinity Ward, engulfs players in a modern-day conflict, where split-second decisions could affect the global balance of power.
How To Win
It's simple, login or register and answer the question, we'll randomly select the winner(s) and contact them via email.
Enter The Competition
Sorry, you're too late, the competition is now closed, please try again another time!
And The Winner Is...
Thanks to everyone that entered, the winners have now been selected and emailed their codes. The winners are: Karzan24, Foxy-Goddess-Scotchy, Specialspy1, Karry500, foxykat2002, Thomas377, AndrewCepulis, X-_Curly_-X, Dollybird78, Hanarees, IronHammersFC, TheGee, leucocyte, Mainyu409, angela121262, LukeOtisSmith, Smoaksey, WeirdbeardUK, welshlewi91, Gprince11, ethan1manu, andy371982, UnknownHunter, baldkev, Bloodfireluis, Georgeheyney, neavo85, Jaffor0022, killswitch4738, shontaylor, AshM, chealehay, Glenn2k13, Creamysniper, B-I-G-DEVIL, mdaddyday, mcnamee19, jammychuu, eddibhoy, shane1, Joemcjoe1993, Tvr_wm, TheGamerNextDoor, Netbean, stBoa, sniper1donk, Nightcrawler71, niclon26, Gooseroaster, trapmash.
Rules
Closing date for entry is midnight GMT Wed 11th September 2019, winners will be contacted via email. You may only enter once, duplicate entries will be removed. You must be a UK resident to receive the winning prize.
We will issue 10 codes per hour from 7pm (GMT) on Wednesday, 11th Sept 2019 until all codes have been assigned to correctly answered entries. UK & Ireland Only.
Please read our full competition terms and conditions before entering.