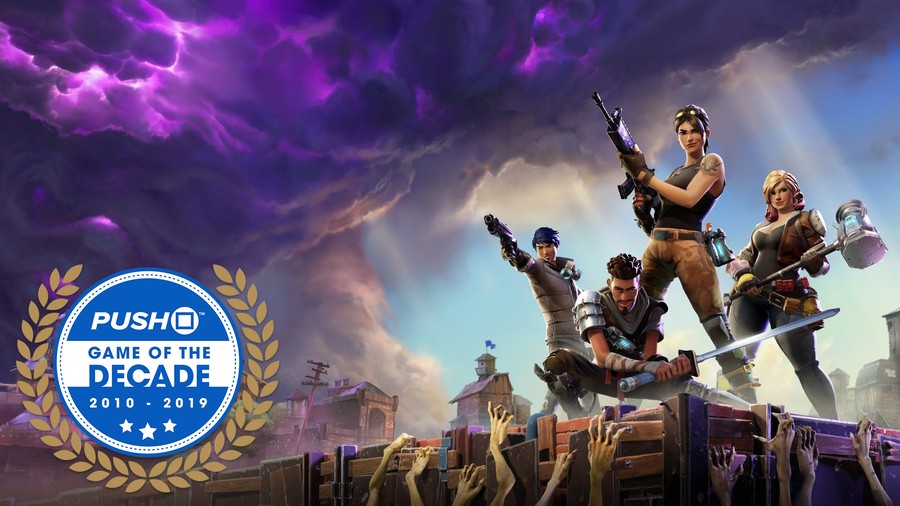 We're listing the ten Games of the Decade. These are the ten PlayStation titles released over the past ten years that we believe have left a historic mark on the industry. Whether it's Destiny's impact on the Games as a Service space or Journey's innovative approach to online connectivity, these are the releases that the industry will be referencing well into 2020 and beyond.
---
When Ninja streamed Fortnite with Drake on Twitch, everything changed. Epic Games' PlayerUnknown's Battlegrounds knock off had been doing fairly well for itself ever since a September 2017 launch in Early Access on PlayStation 4, but it took another six months before it truly hit the mainstream. Joined by Travis Scott, the US rapper and Ninja smashed viewing records at the time and shot Fortnite into the stratosphere. The rest is history -- Fortnite became the biggest, most popular video game in the world, and continues to hold that title to this day.
It wasn't always that way, however. Released at the height of PUBG's dominance, it was largely considered to be a straight rip off of the realistic Battle Royale shooter in an attempt to prop up Epic Games' failing Save the World campaign. And, well, it absolutely was. Make no mistake about it, Fortnite as we know it today would not exist without the popularity of PlayerUnknown's Battlegrounds. Although, it's how the more child-friendly version of the battle to become number one put the competition to shame as it superseded player numbers and engagement in every way imaginable.
Fast track to the end of 2019 and Fortnite is quite literally everywhere, but it goes further than that. The game has become so ingrained into society and a part of culture that it has the potential to be a substantial part of childhood. Gone are the days of Power Rangers, Digimon, or even Pokémon -- Fortnite has replaced them. We now live in a world where the children of today will grow up memories of Battle Royale victories and late-night matches with their school friends. And that's an incredible thing. Its dances and emotes are common knowledge, the t-shirts and merchandise sold worldwide. Fortnite has seen success unlike any other video game in history.
Although, it hasn't managed that by simply remaining stagnant. Epic Games has continuously teamed up with the biggest entertainment products time and time again to create events simple unimaginable in other titles. From two Avengers modes to coincide with the theatre releases of Avengers: Infinity War and Avengers: Endgame through to Keanu Reeves' John Wick 3: Parabellum spawning an in-game skin of the movie star himself, Fortnite has capitalized on pop culture events at a truly impressive rate. Hell, players could catch a brand new clip of Star Wars: The Rise of Skywalker just under a week ago while playing the game if they landed in the right place. How insane is that?
And then there are the world-changing in-game events which come with the culmination of each season. Drawing in millions upon millions of viewers in-game and across streaming platforms, they're moments worth catching live for those that don't even play the game. They dramatically change the map in the process, but it's what happens in the moment which makes proceedings so special. From the rocket ship launch which tore a hole in Fortnite's sky to Marshmello's in-game concert, the world knows something magical is about to happen when the developer brings its next big thing to your attention.
Epic Games even had the audacity to take the game offline in its entirety for two days before the start of Fortnite: Season 2, letting hype reach fever pitch before players were allowed to return following cleverly disguised server maintenance. When a studio can turn the fact you can't play its game into an event, you know you have something pretty spectacular on your hands.
You may not like Fortnite, and that's okay, but its influence, reach, and popularity are categorically impossible to deny. It's a game which keeps its passionate player base on its toes at all times as it tells a story through large scale in-game events, while still making room for daily balance changes and tweaks to the map to satisfy the most hardcore of the lot. People the world over keep on coming back for more and more, and there's a reason for that. Fortnite deserves its place as the biggest video game in the world.
---
Do you play Fortnite? Do you agree that it is one of this decade's most impactful games? Jump off the Battle Bus in the comments below.