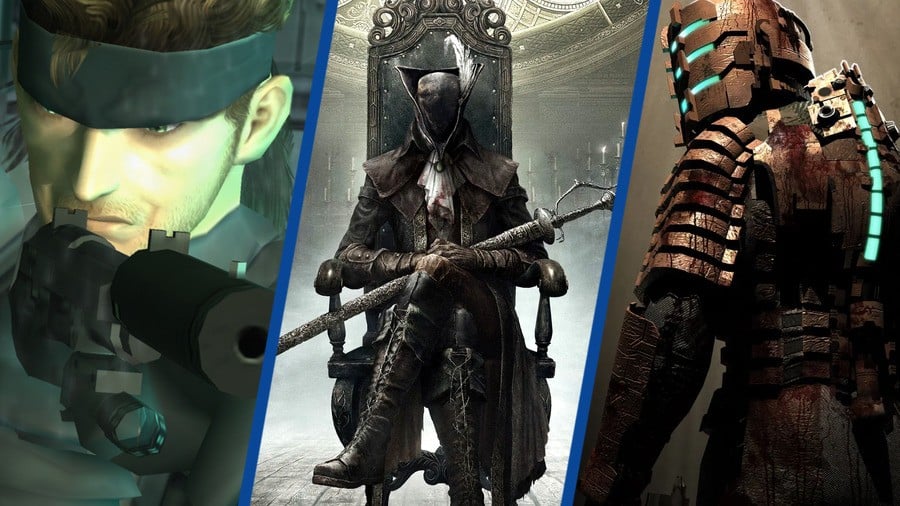 Next year's PlayStation 5 is going to be fully backwards compatible with all physical and digital PS4 games, and so drawing up an extensive list of remasters and remakes we'd like to see on the next generation console isn't such an easy task anymore. Everything from the current generation should play on the PS5 without any trouble, so we can't envision developers putting quite as much stock in their back catalogues as they did during the entirety of the PS3 era and the early years of the PS4. Nevertheless, we're going to take a crack at highlighting the games we think would benefit most from a remaster or even a remake on the PS5.
Everyone and their great-grandmother were begging Sony for a PS4 Pro patch for Bloodborne, and to much disappointment, it never arrived. The From Software joint had some minor technical issues such as frame rate drops in certain areas and frame pacing problems throughout the entire game, but they were never enough to take away from what is one of the PS4's very best games.
If a PS5 remaster were to come about, though, doubling that frame rate to 60 and pushing the graphics into the 4K era wouldn't be much of a problem for the next-gen hardware. The world of Yharnam could shine that little bit brighter on the PlayStation 5.
Will it happen? Probably not.
Cyberpunk 2077 hasn't even been released on the PS4 yet and we're already hoping for a remaster on the Japanese giant's next piece of hardware. CD Projekt Red's latest will obviously look incredible on current gen consoles, but how it runs could potentially be a bit of a different story. The Witcher 3: Wild Hunt struggled at launch back in 2015, and while the Polish developer is fully up to speed with console development now, we're still not entirely convinced.
We don't want to shun what will surely be an excellent experience on PS4, but we can't envision a future where Cyberpunk 2077 doesn't get a simple remaster a year down the line with all of its DLC bundled in.
Will it happen? We're already looking to place a pre-order.
There have been rumblings of a Demon's Souls remake for the past couple of years now, and if the project really does exist, it might be best saved for the PS5. The PS3 exclusive is always going to benefit from the extra horsepower a new console brings with it, but with Sony's next generation system attempting to make load screens go the way of the Dodo, the frequent load times of Demon's Souls could be a thing of the past.
Updating the visuals and bringing them into the 4K era is, of course, a given, but just having the game that started it all on a modern console is a pleasure in itself. We don't think both Bloodborne and Demon's Souls will receive a remaster or a remake, so it could be a case of taking one and leaving the other in its current state. We'll take Demon's Souls in all its PS5 glory if that's the case.
Will it happen? There's a chance.
From what developer and now publisher of Destiny 2, Bungie, is saying about its looter shooter franchise, it looks like the series' second instalment is sticking around for a little bit longer than one would think. The game is completely accounted for with another four seasons announced after the release of Destiny 2: Shadowkeep in September, which brings us right up to the PS5's launch once it's all said and done.
And from what Bungie has said, it's sticking with this launcher for the foreseeable future. Of course, the game will run on the PlayStation 5 through backwards compatibility, but a simple remaster would go a long, long way. Let's get that frame rate up to 60 and improve the graphics that little bit more. Come on Destiny, you know you want to.
Will it happen? There's a chance.
Another game that hasn't even released yet - we fully expect The Last of Us: Part II to follow in the footsteps of its predecessor and launch a remaster a year or so after its initial release on PS4. It'll look and run even better, come with all of the DLC released post-launch, and bring with it the online multiplayer components that have us coming back for more. What we assume will be one of the best games this generation gets even better in the next.
Will it happen? We're already looking to place a pre-order.
We're really getting into dream territory here, but just imagine a complete remake of the original Metal Gear Solid on the PS5. That would be something special. We're not entirely sure what shape this would take - whether it would retain the top-down view or switch the camera angle up - but we'll take anything we can get at this point.
Konami doesn't seem too interested in video games outside of Pro Evolution Soccer at the moment, however, so the chances of this actually happening are relatively slim. Maybe if the company suddenly needs a quick injection of cash it'll fall back on one of its greatest franchises to date.
Will it happen? Probably not.
If the PS5 only supports PS4 backwards compatibility, the original Red Dead Redemption will be all but lost to time on what will be very outdated consoles, unless you really want to stream it via PlayStation Now. Rockstar isn't averse to a good old remaster, as proven by Grand Theft Auto V, but this would probably need to be a full remake more than anything else.
After the events of Red Dead Redemption 2 set up the story of John Marston, let's see his inaugural tale all over again on the PS5. It probably means that a potential Grand Theft Auto sequel would be put on ice for a little bit longer, but we can live with that. The quicker Rockstar puts something out next generation the better.
Will it happen? There's a chance.
After the excellent Resident Evil 2 remake released earlier this year, it looks like everyone is gearing up for another trip to Raccoon City with the return of Resident Evil 3: Nemesis, but hold your horses for just a second Capcom. If such a project does exist, it's not going to be out in the wild until at least next year, which falls within the same time frame as the launch of the PS5.
We say hold onto this gem for just a little longer and give it the complete makeover on the next generation console to really make Jill Valentine shine. It would be a phenomenal release to have in the early days of the PS5, and therefore wouldn't be tied down to a console that'll be out of date by the time the year is out.
Will it happen? Yeah, we think so.
It's Resident Evil 4, so of course it'll end up ported to the PS5 at some point. However, what if Capcom could do one better than that? After completely remaking the franchise's second entry, it's surely only a matter of time before its sequels get a new coat of paint.
This is one we wouldn't expect until after a remake of Resident Evil 3: Nemesis, but we're happy waiting. Bringing back one of the greatest games of all time with a full remake would be a great addition to the PS5's library, and it shouldn't take quite as much work to get into shape either, considering the camera angle of the later games is already in place.
Will it happen? It's a case of when, not if.
The second CD Projekt Red title on the list - another playthrough of The Witcher 3: Wild Hunt is something we'd always say yes to. When the release schedule of a new console is a little slow in the first year of its launch, a huge 100 hour RPG could make up for that in spades.
The studio has proven that it is more than happy to port the game to other platforms well after the fact, with it coming to Nintendo Switch later this year, and so a PS5 remaster doesn't seem too out of the question. Focus on Cyberpunk 2077 for sure, but we wouldn't say no to the return of Geralt of Rivia further down the line.
Will it happen? There's a chance.
---
What do you think of our picks? Is there anything we missed? Share your suggestions in the comments below.