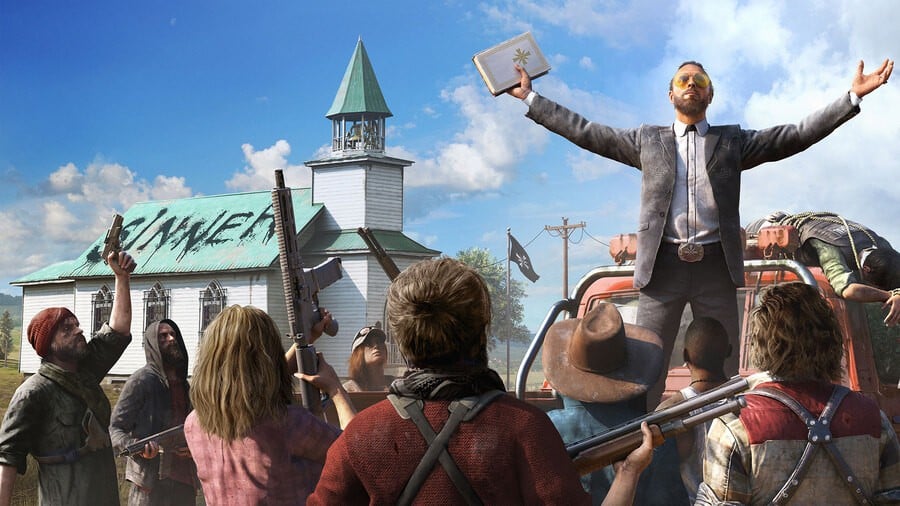 The latest Japanese sales charts make for some surprisingly interesting reading. Numerous PlayStation titles have entered the top ten, with the latest Super Robot Wars game taking the number one spot. It shifted around 89,300 copies on PlayStation 4. The Vita version entered in third.
Impressively, Far Cry 5 followed close behind Super Robot Wars X in second, moving 75,500 copies on Sony's home system. Ubisoft's latest has done well for itself considering the typical buying habits of the Japanese market, but what's really eye-opening is that the open world shooter has already outsold Ni no Kuni II: Revenant Kingdom and Valkyria Chronicles 4 in Japan -- two titles that have failed to really find a foothold over in the East.
Speaking of which, sales for both games dropped rather dramatically over their second week on store shelves, allowing the likes of Shining Resonance Refrain to race into the top ten despite selling through only 23,000 copies. Meanwhile, Monster Hunter: World is still hanging on in tenth place, with Japanese retail sales closing in on two million copies.
Moving onto the hardware charts, the PS4 continues to mull around the 25,000 mark.
Hardware sales
Switch – 44,033 (50,412)
PlayStation 4 – 17,457 (15,458)
PlayStation 4 Pro – 7,868 (8,398)
New 2DS LL – 5,517 (6,487)
PlayStation Vita – 3,992 (3,627)
New 3DS LL – 3,936 (4,070)
2DS – 756 (646)
Xbox One X – 77 (80)
Xbox One – 76 (102)
Software sales
[PS4] Super Robot Wars X (Limited Edition Included) (Bandai Namco, 03/29/18) – 89,259 (New)
[PS4] Far Cry 5 (Ubisoft, 03/29/18) – 75,474 (New)
[PSV] Super Robot Wars X (Limited Edition Included) (Bandai Namco, 03/29/18) – 54,042 (New)
[NSW] Kirby: Star Allies (Nintendo, 03/16/18) – 50,437 (357,093)
[NSW] Splatoon 2 (Bundle Version Included) (Nintendo, 07/21/17) – 25,639 (2,191,686)
[PS4] Shining Resonance Refrain (Sega, 03/29/18) – 23,054 (New)
[PS4] Ni no Kuni II: Revenant Kingdom (Limited Edition Included) (Level-5, 03/23/18) – 18,851 (74,865)
[3DS] Detective Pikachu (The Pokemon Company, 03/23/18) – 15,584 (57,597)
[NSW] Mario Kart 8 Deluxe (Nintendo, 04/28/17) – 14,486 (1,446,986)
[PS4] Monster Hunter: World (Limited and Bundle Editions Included) (Capcom, 01/26/18) – 10,011 (1,994,226)
[NSW] The Legend of Zelda: Breath of the Wild (Limited Edition Included) (Nintendo, 03/03/17) – 9,373 (938,990)
[PS4] Valkyria Chronicles 4 (Limited Edition Included) (Sega, 03/21/18) – 9,108 (72,029)
[NSW] Super Mario Odyssey (Bundle Version Included) (Nintendo, 10/27/17) – 8,442 (1,675,896)
[NSW] Hyrule Warriors: Definitive Edition (Koei Tecmo, 03/22/18) – 7,642 (32,549)
[PS4] Attack on Titan 2 (Limited Edition Included) (Koei Tecmo, 03/15/18) – 7,362 (44,469)
[3DS] Pokemon Ultra Sun / Ultra Moon (Nintendo, 11/17/17) – 5,999 (1,605,916)
[PS4] Hokuto ga Gotoku (Limited Edition Included) (Sega, 03/08/18) – 4,604 (156,805)
[PS4] Rainbow Six Siege Advanced Edition (Ubisoft, 03/01/18) – 4,441 (31,680)
[NSW] Dragon Ball Xenoverse 2 for Nintendo Switch (Bandai Namco, 03/01/18) – 3,981 (137,570)
[NSW] 1-2-Switch (Nintendo, 03/03/17) – 3,979 (423,926)
[source 4gamer.net, via gematsu.com]