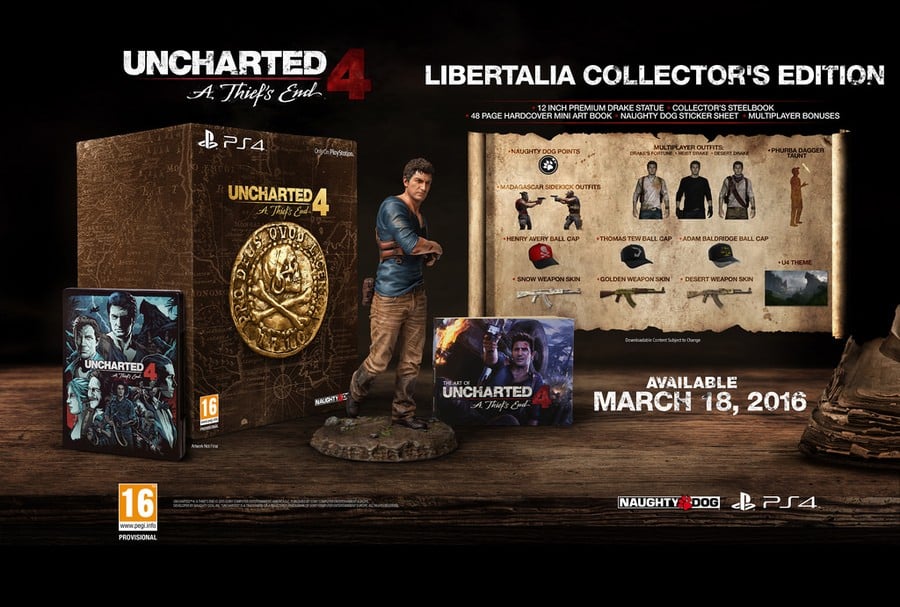 So much for a quiet bank holiday Monday here in the UK. Sony's gone ahead and announced a confirmed release date for upcoming blockbuster Uncharted 4: A Thief's End, as well as an obligatory collector's edition. Drake's latest will launch in both Europe and North America on the 18th March 2016 - which doesn't seem too far away at all.
As for the premium stuff, you'll be able to pick between two different special editions. The first will include a steelbook case, a 48-page hardcover art book, a sticker sheet, and, er, Naughty Dog Points, which can apparently be used to unlock multiplayer content and upgrades. Microtransactions, anyone?
The second, even bigger collector's edition comes with a 12 inch Nathan Drake statue, a ton of multiplayer downloadable content, and all of the bits and pieces listed above. Oh, and you get an inevitably pretty dynamic PlayStation 4 theme, too.
As for digital pre-orders, you'll nab some multiplayer add-ons and Naughty Dog Points by pre-purchasing the title from the PlayStation Store. There's also a digital deluxe edition up for grabs, too, which comes with yet more DLC. It's worth noting, though, that the description actually mentions access to the first ever Uncharted single player expansion, which will no doubt be quite an interesting addition.
So, what do you reckon? Is March a good time for you to go exploring? Are you interested in these special editions? Leg it with all of your loot into the comments section below.
[source blog.eu.playstation.com]