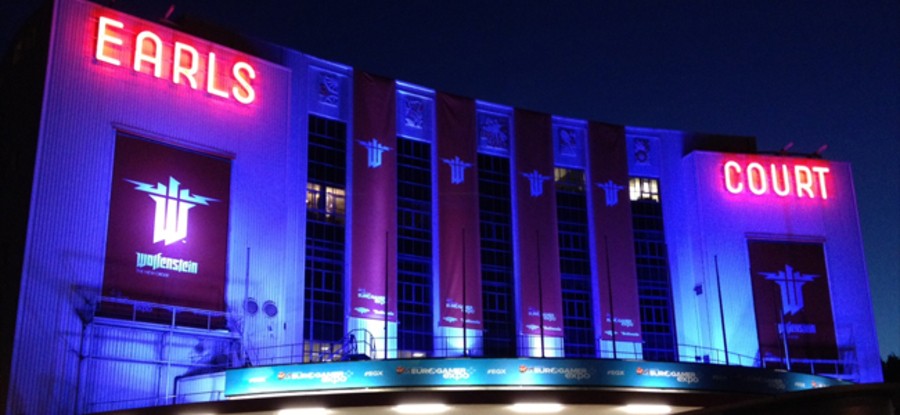 We rarely agree on anything. Spend an afternoon in our office, and you're much more likely to find us arguing over the last custard cream than working in composed quiet. As a consequence, we were dreading holding an internal poll for our five most anticipated PlayStation tiles from the Eurogamer Expo last week, but the ensuing countdown came together with only a single broken nose. Not bad, considering.
There were a lot of games vying for attendees' attention during the London-based convention's four day run, but we felt that the following five really stood out from the pack. Be it artistically or mechanically, all of the releases recapped below offer something a little out of the ordinary, and it's a testament to the sheer variety in PlayStation's impending lineup that we were able to pick such a diverse list. But the big question is: do you agree with our selections? Let's find out.
Leave it to Media Molecule to upstage an entire convention hall by constructing its booth out of bits of tissue paper. Tearaway's slender section stood out amid a canvas of brown and black, bringing a dollop of colour to the otherwise straight-faced showfloor. And fitting the fancy format was, too, as Rex Crowle's papercraft expedition is every inch the charming outing that its trailers have teased.
Despite boasting an art direction bolder than a splodge of pink PVC paint, the thing that makes Iota's outing so audaciously enveloping is its cunning commitment to the Vita's various unique features and functions. Disclaimer: the position of this title was not influenced in any way by the uber-cute keyrings that the folks from Sony simply insisted that we take with us. Honest.
Press triangle to Aiden – or something to that effect. Beyond: Two Souls may be hammering at our door harder than a phantom trapped inside one of those nifty spirit suckers from the Ghostbusters series, but protagonist Jodie Holmes' sulky countenance still managed to land a spot on our Eurogamer Expo hit list.
Don't let director David Cage's incessant repetition of the word 'emotion' detract from your excitement for Quantic Dream's latest opus, as this is legitimately what we call in the business the real deal. Alright, so the actual gameplay may be simpler than a media studies degree – but who wouldn't want to cosy up to Ellen Page and her creepy invisible accomplice?
Velocity 2X deserves a place in our Eurogamer Expo countdown on the strength of its name alone – but we suppose that the actual game's not bad either. After boosting away with our coveted PlayStation Minis crown last year, Brighton-based indie idols FuturLab are back with another intergalactic victory lap that may just be the best thing since spaceship sanctioned shortbread cookies.
The big twist in this multifaceted sequel revolves like an asteroid belt around hard knuckled hero Lt. Kai Tana's ability to step out of her ship, allowing her to embark on side-scrolling shoot-a-thons in pursuit of switches and weird space crystals. The best part, though, is that the blonde-haired badass can still teleport short distances, making skipping convention queues a doddle.
The most dumb fun that you can have with a DualShock 4, the wacky Octodad: Dadliest Catch has become a fishy favourite among everyone in the Push Square team. While it doesn't necessarily stretch the PS4 to its limits, it underlines everything that's special about Sony's gaming brand one sloppily misplaced tentacle at a time.
Taking charge of a cephalopod in disguise, you must deceive your spouse and offspring of your true aquatic origins. With a control system comparable to QWOP and an art style that will have you in tears at the mere sight of the unfortunate underwater hero, Young Horses' ridiculous indie release is guaranteed to make a splash more sizeable than a giant squid when it swims onto digital stores next year.
With more glitter than a fairy outfit factory, Housemarque's delicious reimagining of Defender is prettier than Pippa Middleton in a floral themed pashmina. The spiritual successor to the already sublime Super Stardust HD, Resogun's colourful brand of combat puts it a tier or two above all of its distinctly less pretty peers.
Built entirely out of voxels – snazzy volumetric pixels – the imminent exclusive makes an absolute mockery out of current generation visuals. With lasers, bombs, and ridiculous plasma rifles all part of your explosive paint palette, the PS4 exclusive promises an interstellar score chasing experience more satisfying than rubbing Marmite into a mouth ulcer.
---
If you're too rad for reading, you can watch our rundown in Technicolor courtesy of video editor Ben Potter's excellent recap above. Don't leave just yet, though, as we want to know whether you agree with our selections. Were you in attendance at last week's show? Which upcoming PlayStation titles are you most eager to get your hands on? Share your thoughts in the comments section and poll below.
Which of the following games are you most looking forward to? (39 votes)
Octodad: Dadliest Catch
23%
Please login to vote in this poll.