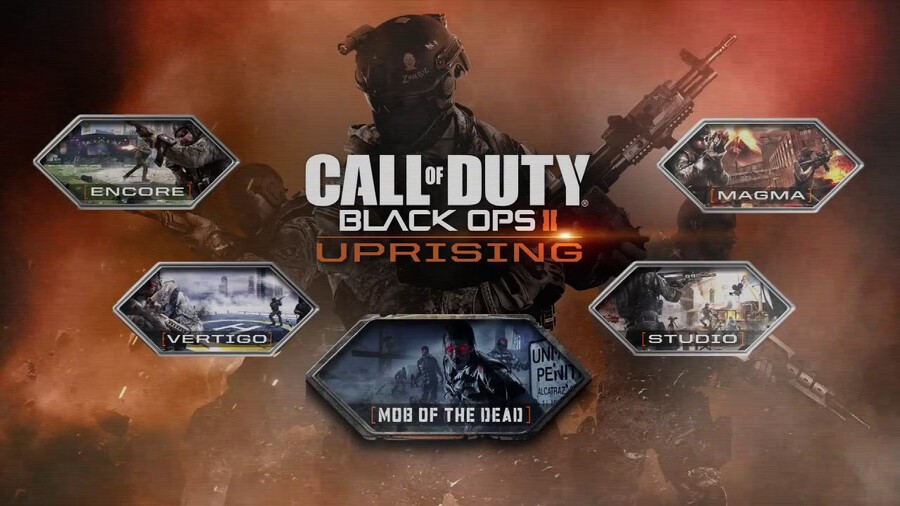 Call of Duty: Black Ops 2 is set to host a global uprising later this year, with the first-person shooter's second major expansion pack. The add-on – dubbed Uprising, in case you missed it – features four new maps and a fresh "zombie adventure". Treyarch is describing the package as the most "fan-centric" it has ever created, which has certainly piqued our attention.
Among the new arenas are Magma, Encore, Vertigo, and Studio – the latter of which is a Hollywood reimagining of Black Ops' classic Firing Range. Each of the stages has a unique twist, be it Magma's active volcano, or Encore's rock concert. Vertigo, meanwhile, takes place on the top of a skyscraper in India.
In addition to the new competitive maps, you'll also unlock a fresh undead experience which features stars Ray Liotta, Chazz Palminteri, Joey Pantoliano, and Michael Madsen. The mode takes place in a zombie-infested Alcatraz, and sees deceased players transported to the afterlife. Additional details are scarce, but we're sure that more will be revealed in the coming days.
Due to Microsoft's exclusivity arrangement with Activision, there's no word on when the add-on will shoot onto the PlayStation 3, but it's reasonable to expect it to be deployed sometime in May. Are you excited for more Call of Duty content? Let us know in the comments section below.