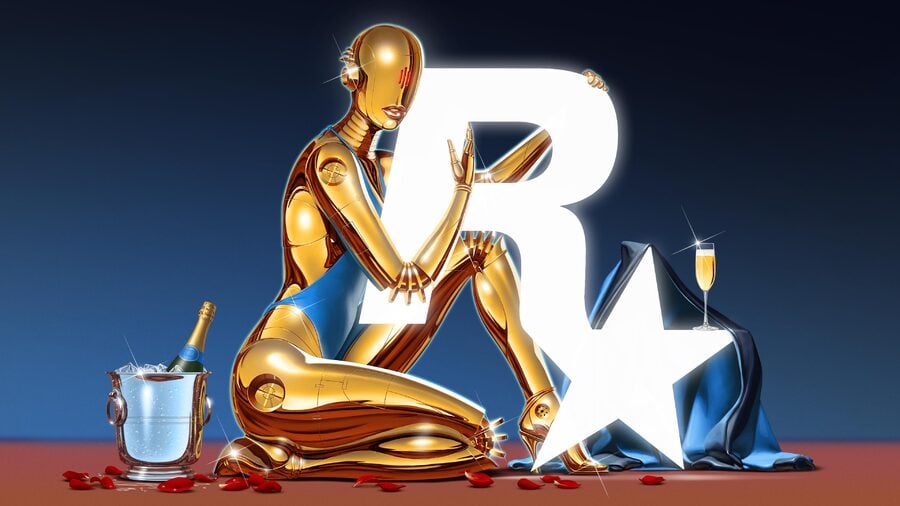 A couple of new artworks have appeared on the official Rockstar Games website, and as you'd expect, the internet's making a big deal out it. To be fair, said artwork is pretty interesting. The picture we've embedded above shows a feminine robot in a swimsuit clutching the company's logo, while the one below is a more traditional Rockstar graphic. It contains various slogans such as "killing dreams", "murdering hope", "fighting the righteous", and "bullying the weak" -- all of them phrases that you could tie to Rockstar's existing property portfolio.
But what does it all mean? Well, while we'd love to say that we think these images are teasers for new projects from Rockstar, they're probably just some cool new designs for the developer's flashy website. The pictures themselves appear as background art when you open up the site's menu, leading us to believe that they're not anything to get especially excited over.
Who knows, though. Rockstar's been weird with its reveals in the past and maybe, just maybe there's some mad reasoning behind why these graphics have only just shown up. We can dream, right? Tell us Grand Theft Auto 6 has been confirmed in the comments section below.
[source rockstargames.com, via gamesradar.com]