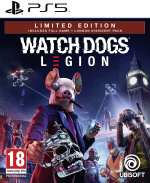 Publisher:
Ubisoft
/
Developer:
Ubisoft Montreal
Status: Announced for PS5 and PS4
Watch Dogs Legion will hack homes at some point in 2020 on the PS4, but publisher Ubisoft has confirmed that a PS5 version is also in the works. Given the sheer ambition of this open world outing, Sony's next-gen hardware should open new doors, enabling faster loading times and a more dense sandbox setting.
---
Would you be happy to have these games on PS5? Are there any other potential PS5 games that you can think of? Feel free to build your expectations in the comments section below.