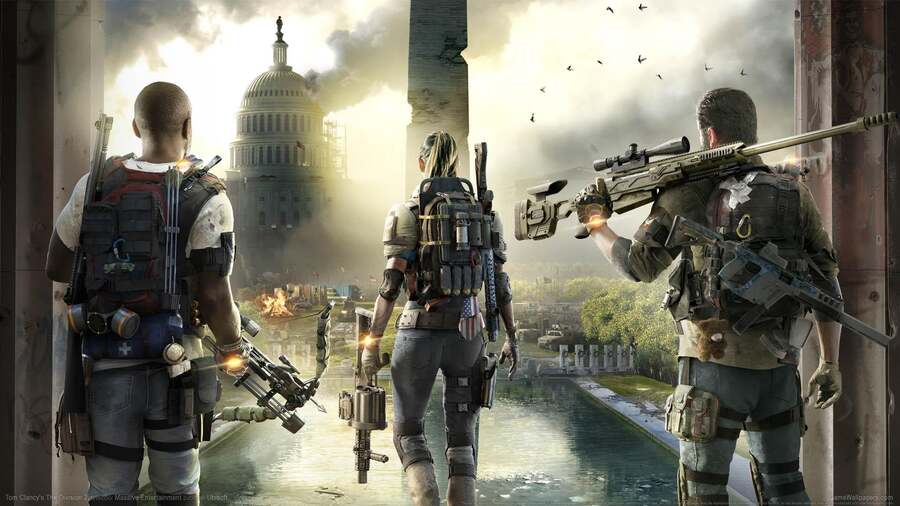 The latest Japanese software charts are in, and it's The Division 2 that's snagged the top spot this time around. Ubisoft's open world looter shooter did a decent 64,000 copies on PlayStation 4 at retail, which was enough to propel it straight to number one.
Not too far behind was One Piece: World Seeker with 51,000 copies. That's not terrible, but for a brand new One Piece game launching in its native Japan, it's below what you'd expect. We didn't think World Seeker was very good at all, so perhaps Japanese consumers felt the same way.
Elsewhere, Devil May Cry 5 remains in the top five after winning out last week, while the prologue demo thing for 13 Sentinels: Aegis Rim barely made a mark, moving a measly 6000 copies.
On the hardware side of things, the PS4 continues its relatively good run with 32,000 units sold across the standard model and the PS4 Pro.
Hardware sales
Switch – 56,954 (69,766)
PlayStation 4 – 25,015 (25,154)
PlayStation 4 Pro – 7,206 (7,208)
New 2DS LL – 4,040 (4,424)
New 3DS LL – 892 (1,182)
PlayStation Vita – 870 (3,002)
2DS – 793 (112)
Xbox One X – 91 (83)
Xbox One – 45 (14
Software sales
[PS4] The Division 2 (Limited Edition Included) (Ubisoft, 03/15/19) – 63,817 (New)
[PS4] One Piece: World Seeker (Bandai Namco, 03/14/19) – 51,039 (New)
[PS4] Devil May Cry 5 (Capcom, 03/08/19) – 33,149 (149,350)
[NSW] Super Smash Bros. Ultimate (Nintendo, 12/07/18) – 20,706 (2,953,145)
[NSW] New Super Mario Bros. U Deluxe (Nintendo, 01/11/19) – 16,997 (516,540)
[NSW] Mario Kart 8 Deluxe (Nintendo, 04/28/17) – 11,288 (2,178,288
[NSW] Pokemon: Let's Go, Pikachu! / Let's Go, Eevee! (Bundle Editions Included) (Nintendo, 11/16/18) – 10,112 (2,178,288)
[PS4] LoveR (Kadokawa Games, 03/14/19) – 9,985 (New)
[PS4] Judgment (Sega, 12/13/18) – 8,677 (263,407)
[NSW] The Legend of Zelda: Breath of the Wild (Limited Edition Included) (Nintendo, 03/03/17) – 8,479 (1,325,825)
[NSW] Super Mario Party (Bundle Version Included) (Nintendo, 10/05/18) – 8,429 (1,055,218)
[NSW] Minecraft: Nintendo Switch Edition (Bundle Version Included) (Microsoft, 06/21/18) – 9,955 (640,825)
[NSW] Splatoon 2 (Bundle Version Included) (Nintendo, 07/21/17) – 7,516 (2,962,831)
[PS4] 13 Sentinels: Aegis Rim Music and Art Clips (Atlus, 03/14/19) – 5,872 (New)
[PS4] Samurai Warriors 4 DX (Limited Edition Included) (Koei Tecmo, 03/14/19) – 5,330 (New)
[PS4] Kingdom Hearts III (Limited Edition Included) (Square Enix, 01/25/19) – 5,236 (790,805)
[NSW] Samurai Warriors 4 DX (Limited Edition Included) (Koei Tecmo, 03/14/19) – 4,704 (New)
[PSV] Kenka Bancho Otome 2nd Rumble!! (Spike Chunsoft, 03/14/19) – 4,704 (New)
[NSW] Kirby: Star Allies (Nintendo, 03/16/18) – 2,883 (743,782)
[NSW] Super Mario Odyssey (Nintendo, 10/27/17) – 2,760 (1,962,818)
[source 4gamer.net, via gematsu.com]