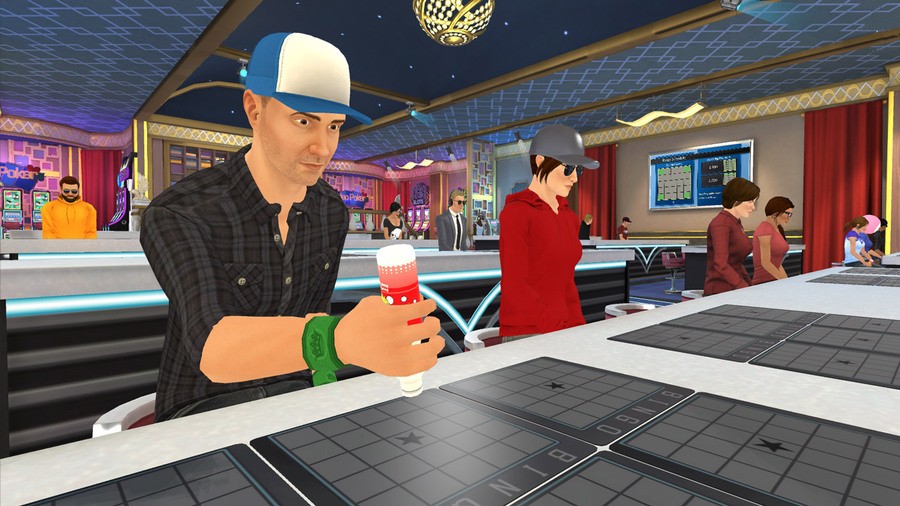 We published our Best Free PS4 Games list on Push Square today, and it prompted me to do something I've been meaning to for months: download a bunch of free-to-play titles. I don't know why I've put releases like World of Tanks on the back burner seeing as they don't cost a penny to test out, but my backlog is large – I'm sure you can empathise. Tonight, though, was free-to-play night – and I wasted it in The Four Kings Casino and Slots bingo hall.
I don't know what attracted me to the Digital Leisure developed social space in the first place, but I do tend to gravitate towards titles that are a little bit out of the ordinary. Realm Royale looks alright, but I've played Fortnite already; I'm sure H1Z1 is cool, but zombies are dime a dozen. The Four Kings Casino and Slots, though – well this looked like PlayStation Home. And as one of approximately 13 people who genuinely liked Sony's virtual world, I was knee deep in chips within minutes.
I'm actually pretty sure this is based on an old PS Home space; I vaguely remember there being a casino by Digital Leisure that I spent all of three minutes walking around. This is clearly much grander, however: the game released almost three years ago, and has been expanding ever since. There are tons of gambling machines, each with unique themes, as well as various card games and even a bowling alley. I told you the PS Home nostalgia was strong!
But I made a beeline to the bingo hall, which was bustling by the way. If a game's already in progress, then you have to wait until it's over before you can pull up a pew and get involved. I stood at the back of the room while a man with a purple beard did the Carlton dance next to me. (I decided to select a female avatar because I draw a sadistic kind of satisfaction from catfishing people in virtual worlds, and there's no doubt this guy wanted a taste of my bingo wings.)
You use chips to buy into games of bingo, and if you win you score the whole pot. Obviously you can buy chips using real money via the PlayStation Store, but you get various bonuses for completing simple starter quests so I had more than enough to keep me occupied for the night. I also won big on a slot machine called Fish & Chips, and I'm still dreaming of delicious beer batter dunked in tartar sauce to be totally honest.
I ended up spending an hour with my digital dabber between my digits. You get six sheets to pore over, and you've got to be paying attention to the numbers being called otherwise you may miss your opportunity to scream 'Bingo' like you're a member of the blue rinse brigade at Butlins. The thing that surprised me is just how much the bingo hall filled up over the course of the night – there was a lady called Cathy sitting next to me, but I'm going to assume she's called Clive in real-life.
Also, there was this guy with a sombrero and Mexican garb:
Naturally I had an existential crisis after a full 60 minutes of colouring in numbers, so I decided to explore the remainder of the casino. The game's instanced a bit like PS Home, but it's bizarrely busy – a reminder that the PS4 is such a large platform that there are even vibrant communities in games you've never even heard of. There was one lady walking a dog who was able to set fire to the carpet as she strutted around, which I found a tad dangerous:
But nothing could prepare me for the nightclub. Look, I'm 30-years-old and I've been to some hellish bars in my time, but this place was the ultimate dive. In addition to a skeleton with a pet cockroach, I happened upon a couple of gingerbread men jamming out in front of the DJ. The spicy snacks were talking among themselves about oral sex, which I found a little odd but it's 2019 and Waypoint told me it's not right to judge anymore. What biscuits get up to in their own home is up to them!
I was approached by another avatar, who sent me a private message telling me that I was 'quite s3xy' which soon put a smile back on my face. However, before I could reply one of the gingerbread men joked that someone had just told them they were also sexy, and I realised I was being two-timed. It's a new record for me, because while I'm used to having the dirty done on me, it usually takes a couple of weeks. This all happened in seconds.
To be honest I don't know if I'll return to The Four Kings – it's all a bit strange really. I mean, this is the kind of game where you can play blackjack while bouncing basketballs, which is cool but I find it a tad impractical. It opened my eyes, though – who knew there were tens of people gathering to play bingo on their PS4 every single night? I mean, I knew the console was popular, but I had no idea the system's audience expanded to gingerbread men trying to get some cookie—er, nookie in a virtual nightclub!
---
Have you ever visited The Four Kings casino on the PS4? Are you tempted to tour the strange social space now? Dish out some dabbers in the comments section below.