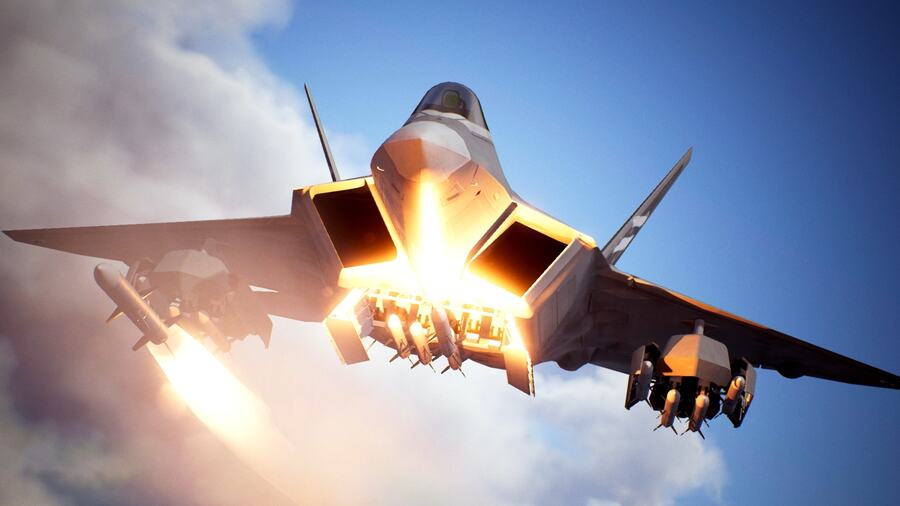 Ace Combat 7: Skies Unknown has started strong in Japan, shooting straight to the top of the software charts on PlayStation 4. The high-flying release shifted just over 202,000 copies on Sony's system, an impressive amount that was more than enough to secure first place.
Elsewhere, the PS4 remaster of Yakuza 4 didn't do so hot, only hitting 18,000 copies, but it still made the top five. The complete edition of Sword Art Online: Fatal Bullet charted in 13th, and the PS4 release of PlayerUnknown's Battlegrounds followed in 14th.
As for hardware, these new PS4 releases did nothing to stimulate console sales. Standard PS4 numbers actually dropped below 10,000 units for the first time in a while, and the Pro only saw very small growth.
Hardware sales
Switch – 71,139 (78,056)
PlayStation 4 – 9,505 (12,012)
PlayStation 4 Pro – 6,958 (6,289)
New 2DS LL – 3,767 (3,954)
PlayStation Vita – 1,755 (1,711)
New 3DS LL – 1,514 (1,483)
2DS – 158 (268)
Xbox One X – 94 (38)
Xbox One – 24 (12)
Software sales
[PS4] Ace Combat 7: Skies Unknown (Limited Edition Included) (Bandai Namco, 01/17/19) – 202,379 (New)
[NSW] New Super Mario Bros. U Deluxe (Nintendo, 01/11/19) – 88,840 (255,143)
[NSW] Super Smash Bros. Ultimate (Nintendo, 12/07/18) – 49,533 (2,726,273)
[PS4] Yakuza 4 (Sega, 01/17/19) – 18,440 (New)
[NSW] Super Mario Party (Bundle Version Included) (Nintendo, 10/05/18) – 16,752 (971,945)
[NSW] Mario Kart 8 Deluxe (Nintendo, 04/28/17) – 15,062 (2,085,952)
[NSW] Pokemon: Let's Go, Pikachu! / Let's Go, Eevee! (Bundle Editions Included) (Nintendo, 11/16/18) – 12,351 (1,472,298)
[NSW] Dragon Quest Builders 2 (Square Enix, 12/20/18) – 11,490 (210,493)
[NSW] Minecraft: Nintendo Switch Edition (Bundle Version Included) (Microsoft, 06/21/18) – 11,107 (573,451)
[NSW] Splatoon 2 (Bundle Version Included) (Nintendo, 07/21/17) – 9,469 (2,903,350)
[PS4] Dragon Quest Builders 2 (Square Enix, 12/20/18) – 9,330 (206,392)
[NSW] The Legend of Zelda: Breath of the Wild (Limited Edition Included) (Nintendo, 03/03/17) – 7,731 (1,263,023)
[PS4] Sword Art Online: Fatal Bullet Complete Edition (Bandai Namco, 01/17/19) – 7,474 (New)
[PS4] PlayerUnknown's Battlegrounds (PUBG Corporation, 01/17/19) – 7,447 (New)
[PS4] Tales of Vesperia: Definitive Edition (Limited Edition Included) (Bandai Namco, 01/11/19) – 7,446 (48,955)
[NSW] Go Vacation (Bandai Namco, 12/27/18) – 5,151 (47,862)
[NSW] Tales of Vesperia: Definitive Edition (Limited Edition Included) (Bandai Namco, 01/11/19) – 4,598 (31,186)
[PS4] Judgment (Sega, 12/13/18) – 4,527 (244,820)
[PS4] Call of Duty: Black Ops IIII (SIE, 10/12/18) – 4,341 (524,140)
[NSW] Taiko no Tatsujin: Drum 'n' Fun (Bandai Namco, 07/19/18) – 3,720 (294,679)
[source 4gamer.net, via gematsu.com]