The annual Push Square Towers tradition is back, as we sit down our scribes and pester them once more for their five favourite PlayStation games of the year. With such a strong assortment of software in 2018, it's always tough deciding upon the cream of the crop. We threatened to confiscate Jamie's retro consoles before he sent us his list.
Castlevania Requiem is an example of how the depth in retro games can be enhanced by a clever Trophy list, which is true for finding secrets in both the brilliant Castlevania: Rondo of Blood and sublime Castlevania: Symphony of the Night. You definitely get more out of SotN when you spend time exploring its castle and RPG mechanics – such as building EXP, using Familiars to assist in combat, and taking time to find powerful weapons like the Crissaegrim, which feels like Strider's blades. This is especially true after the difficulty spike when entering the Inverted Castle. I'm still returning to SoTN to achieve 200.6% completion of the intricate map.
I have bundles of nostalgia for side-scrolling brawlers, and the seven games in this compilation showcase how Capcom released some of the most accomplished 2D beat-'em-ups in the late-1980s to mid-1990s. The lure of previously unconverted arcade titles is particularly enticing to a retro gamer, so the Capcom Beat 'Em Up Bundle makes my GotY list predominantly due to the inclusion of the fantastic Armored Warriors and Battle Circuit.
On the back of the box Motion Twin describe Dead Cells as a Roguevania as opposed to a Metroidvania, and I was initially sceptical that procedurally generated areas could be as well-crafted as a Castlevania map. I missed the point, because grinding for Cells is fundamental to the design, and learning skills – like upgrading Tactics to supplement melees with Duplex Bow range arrows, plus planting a Sinew Slicer turret – makes Dead Cells more about action than exploration. Graphically detailed, my favourite Biome is the sun-draped pixel-art for the Ramparts. I vary runs now from rushing through timed doors, to carefully progressing using the dodge, which reminds me of Oasis' opening lyrics, "You gotta roll with it, you gotta take your time."
Insomniac Games' 2016 Ratchet & Clank is one of my favourite games of the eighth generation and my spider-sense has been tingling that Marvel's Spider-Man's acrobatic action, swinging, and good humoured comic-book plot deserves second place. I personally prefer DC Comics' characters, but I enjoy how the stealth and combat mechanics follow on from the likes of Batman: Arkham Knight, and I realise fluid navigation around a sandbox is vital in a modern superhero game. Likewise, Delsin's abilities flowed well in inFAMOUS: Second Son, and Insomniac nails Spider-Man's smooth web-swinging traversal of New York City. This release is the perfect accompaniment to my rose-tinted memories of Treyarch's 2004 Spider-Man 2 game.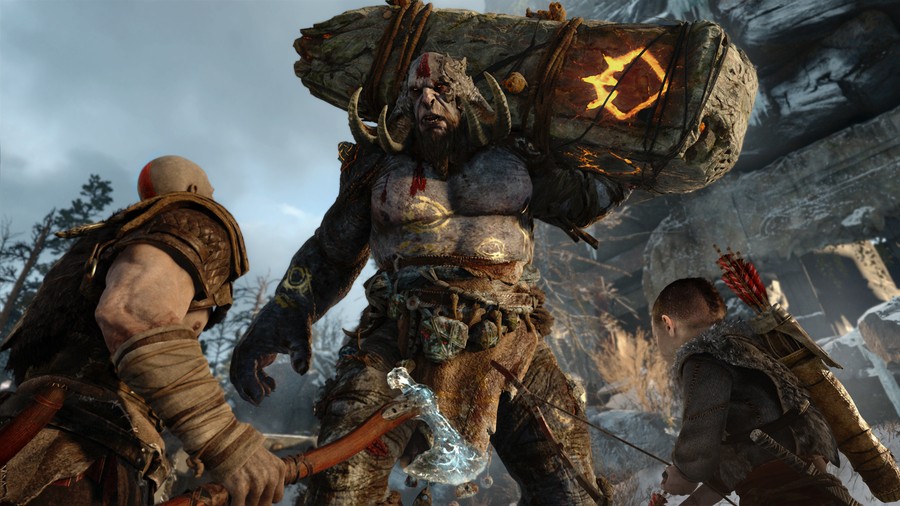 I love God of War III, and I was unsure if the change from a fixed camera to an over-the-shoulder third-person viewpoint would affect the feel of combat in PS4's 2018 God of War. Yet, the brutal brawling, Norse atmosphere, and gripping story all exceeded my expectations when I played God of War on its release in April, so I'm returning to it in December for its Norwegian wintry Midgard setting. I'm pleased for SIE Santa Monica Studio that God of War won Game of the Year at The Game Awards 2018, because it's a well-deserved exclusive as GotY.
---
A mix of 2018's retro-themed hits and biggest blockbusters make Jamie's list, but which of his personal picks do you agree with? Wear your rose-tinted glasses in the comments section below.