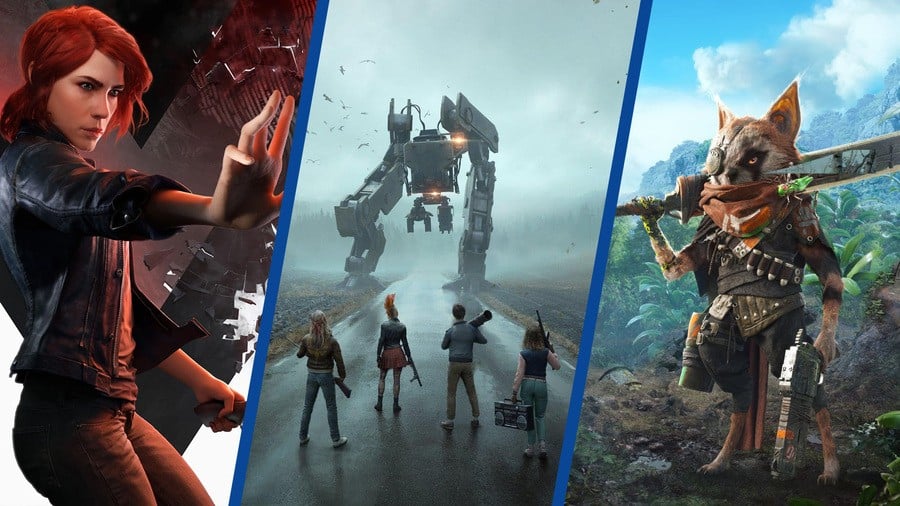 2018 was a pretty good year for non-blockbuster games: Hollow Knight made our Game of the Year list, while other gems like Dead Cells and Celeste also released. We've already taken a look at last year's more underrated releases, so now it's time to look ahead to 2019 and unveil next year's possible diamonds in the rough. No pretentiousness, we promise.
Created by some former Avalanche Studios developers, Biomutant looks to fill the mid-budget game gap in the PS4 market that has existed for too long. Based on an open world of decay and disease, the game sees you mutating and modifying your custom character to become a better fighter – though the trailers also show mechs and vehicles to pilot. One to watch.
We all love a good atmospheric first-person horror game and Close to the Sun looks to be an interesting one. Set in an alternate 19th Century where Nikola Tesla has invented a massive ship to live on, you play as a journalist searching for her sister and finding out why everything is abandoned and creepy. It looks tense, despite the story and voice acting being a little campy, but it's definitely an intriguing idea.
Remedy Entertainment's first game on a Sony platform since Max Payne 2, Control is about Jesse Faden, the newly-appointed direction of a government agency dealing with the supernatural. The game's setting in a surreal skyscraper is pretty cool, but the highlight here is Jesse's supernatural powers, including psychokinesis and levitation. It might not be a trailblazer, but Control still looks like a fun superhero-style title.
A four-player co-op first-person shooter, Generation Zero sees you taking down rampant robots as you try to survive in an idyllic Swedish village in the 1980s. Some might call it a Horizon: Zero Dawn copycat, but Avalanche Studios' looks different enough to be worth a try thanks to its first-person nature and cool cultural setting. The co-op seems to be the main selling point here, allowing you to work together with your buddies to take down hulking machines.
The first of Supermassive Games' Dark Pictures Anthology, a set of spooky vignettes the developer has worked on after the success of Until Dawn, Man of Medan takes place on a drifting ghost ship in the South Pacific. That's about all the information we have so far, but if it's anything like Until Dawn, with an engaging storyline, spooky set-pieces, and impactful choices, then Man of Medan should be a winner.
Yes, it looks very similar to Overcooked in terms of its visual style and level design, but it'd be cruel to call Moving Out a clone of the couch co-op classic. SMG Studios' latest sees you operating a moving company, traversing outlandish landscapes in order to get your customers' belongings "safely" into the moving van. With security cameras, busy roads, and broken piers to navigate (and that's just what's in the trailer) Moving Out should be a great party game to whip out when friends are round.
It may look a tad edgy, but Rebel Galaxy: Outlaw looks to pull all the best bits from space games of the 90s and improve them. The universe looks beautifully grimy and slimy, while ship combat, the main draw of the game, looks no-nonsense but outlandish, with explosions everywhere. For those looking for a nostalgia trip, as well as those who want a new space-based experience, Rebel Galaxy: Outlaw looks a winner.
Its cel-shaded visual style might be a bit ugly, but RICO looks like a thrilling and fun shooter that wears its buddy cop movie influences proudly on its sleeves. Playable in both single player and co-op, gameplay is based around breaching and clearing rooms full of bad guys, then reaping the rewards back at the station. The fact that every level is procedurally-generated should add plenty of replayability.
Though we're not entirely sure if Supermarket Shriek is coming to PS4 – its press page only says it's coming to 'consoles' – Billy Goat Entertainment's title looks too fun to not talk about. A top-down shopping trolley racer, Supermarket Shriek is all about navigating your way through booby-trapped shops using the voices of the man and goat trapped inside said trolley to turn. The fact that you can use microphones to control them when playing co-op is a fantastic idea.
It's taken such a long time to come out that a lot of people have forgotten about it, but Vane still looks as good as ever. You'll explore a barren, dead landscape from the perspectives of a bird and a boy, and while the other details are pretty vague, the fun seems to be finding out what the game's weird world has in store. The beautiful visuals and overwhelming soundtrack should make it a cracking sensory experience.
---
Are you looking forward to any of these games? Which other under-the-radar PS4 titles do you think deserve a bit more attention? Point a spotlight on something we haven't heard of in the comments section below.