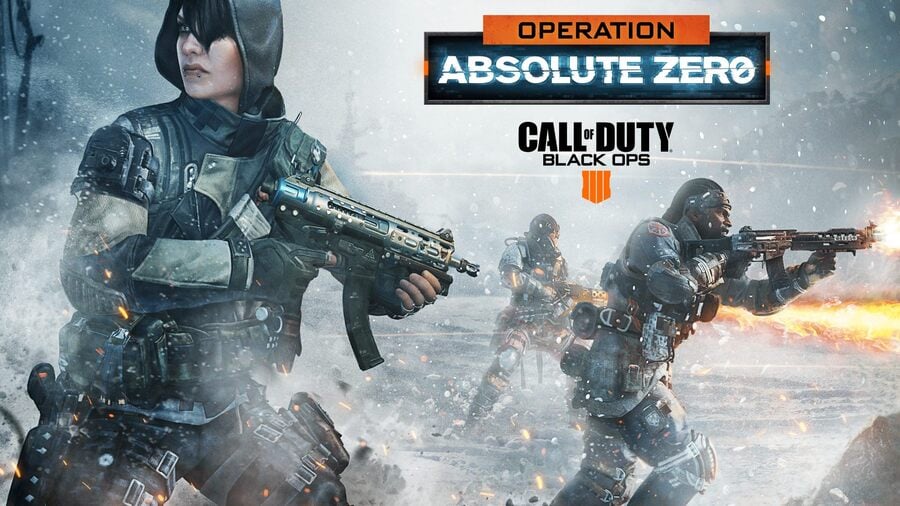 Call of Duty is back, and it really is better than ever. After launching as the greatest entry in the series this generation, Call of Duty: Black Ops 4 has received its first major content drop in the form of a new Operation, titled Absolute Zero. The update brings with it sweeping changes to a variety of different modes, new weapons to play around with, and even a new Specialist. We've been investing hours upon hours into this latest patch over the past week, and it's safe to say that Treyarch's FPS behemoth is in its best place yet.
The headline addition of Operation: Absolute Zero is a new specialist, aptly named Zero. She's a hacker, and you'll be able to engage with her full arsenal of abilities in multiplayer, while also appearing as an unlockable skin in Battle Royale mode Blackout. She brings with her two new skills, which are both designed around disrupting the enemy team. The EMP Disrupter is a grenade with an AoE that scrambles the HUDs of opposing squads and takes away their aiming reticules for a limited time, while also disabling any competitor's equipment in the area. It operates very similarly to Ajax's 9-Bang, throw one into a congested area and mop things up with your assault rifle for some easy kills.
Alongside that, her special attack takes the form of an Ice Pick once charged up. This has all the capabilities of the EMP Disrupter, but also messes with the maps of your enemy. Red enemy dots will appear all over the place, and gun shots can be heard nearby when there's nobody there. It completely disorients the opposing forces, and helps for much easier capture of objectives when they don't know if they're coming or going. For the player that activates Zero's Ice Pick, there's some neat little cosmetic touches to the act of activating the ability too. Using a laptop, you'll watch as every enemy teammate is slowly hacked in real time. By far the most useful aspect of the Ice Pick though is its ability to turn enemy score-streaks to your side, meaning that if someone were to call in a gunship just before you used the Ice Pick, that helicopter is now on your team. It's a move that has the chance to change the course of a match, tipping the odds in your favour.
To complement Zero, two new maps have been added to multiplayer by way of the Black Ops Pass. You will need to purchase that season pass to gain access, but the additions are already looking worthy. Madagascar and Elevation are the two new battlefields to fight it out on, but despite both being at the opposite ends of the temperature gauge, they play out fairly similarly. Tight corridors and small buildings make up the majority of both masses in order to favour sub-machine guns, with the likes of sniper rifles struggling to get a look-in. Madagascar, as you might expect, is a warm and vibrant setting to do battle in while a mudslide to the right of the map provides height for those looking to assault an objective placed down there. Meanwhile, Elevation is appropriately named due to the entire map taking place on a steep hill. Situated in a sort of 1900s Russian themed town, you'll do battle in snowy conditions as you consider how the hill can have an effect on the routes you take. Get ambushed from up top and you'll struggle for the rest of the match, but if you assert dominance and get the upper hand with sight-lines, you're in for an easy victory.
Elsewhere, new weapons have been added to the loot table alongside a new vehicle named the ARAV. With a turret up top and armour on the side, this is by far the best way to get about the map from now on. The gun finally lets you shoot back at those who were in for a good time when a quad bike or a truck zoomed past, and speaking of which, the ARAV is situated just about in the middle of the two when it comes to speed. Not as fast as the quad bike, but much quicker than the truck that struggles to get up a hill sometimes.
By far the most meaningful change to the mode though is the introduction of armour repair, a consumable you can loot that'll do exactly as it says on the tin. Used via the quick equip menu built into the HUD, you'll be able to repair your amour as it takes damage from enemy teams which negates the need to be constantly searching for a fresh set once it soaks up some bullets. Of course you still want to be searching for level two and level three armour, but the armour plates do a good job of making sure you're in peak condition until you do find a better set. It's a change that hasn't gone down well with some, arguing that it renders fights over large distances pretty much useless due to the fact that each of you can simply run to cover and repair yourself before engaging again, but honestly, we love it. It's easy to use, encourages people to seek out battles more, and is found often enough to the point where you'll usually always have some on you to do some repair work.
Last but most certainly not least is Zombies, which has received a brand new scenario titled Dead of the Night. Taking place in a remote mansion in the year 1912, it's not just the undead you'll be fending off this time around. Werewolves and vampires are invited to the party, and while they pose pretty serious threats, they're not even the stars of the show. A star-studded cast makes up the characters you play as, including: Kiefer Sutherland, Helena Bonham Carter, Brian Blessed, and Charles Dance. It really is quite surreal hearing the four interact with one another, making quips and jokes about their performances and what's happening in the match at any given time. It harkens back to the days when David Tennant making an appearance in the original Call of Duty: Black Ops was a massive deal. Once again, you will need the Black Ops pass to access this experience, but Dead of the Night is a worthy addition to the roster with a fully fleshed out campaign and Easter eggs galore. Those who really love rummaging through these levels are sure to uncover some interesting secrets and twists that factor into the larger story at hand.
No matter which mode you favour, there's something meaningful for everyone in Operation: Absolute Zero. The biggest update for the game yet represents Treyarch's commitment to the title across all aspects, and things just keep on getting better. And even if you haven't purchased the Black Ops pass, there's still a ton of new content to soak up and master. Whether you're hacking the enemy team with Zero in multiplayer, gliding over to Hijacked and living to tell the tale in Blackout, or slaughtering all manner of creatures in Zombies, you've got a lot of new content to keep you going. Call of Duty: Black Ops 4 continues to be the greatest entry of the franchise this generation.
---
Have you been digging deep into Call of Duty: Black Ops 4's latest update? What do you think of Zero's abilities so far? Glide into the comments below and deliver the killing blow to a couple of zombies.