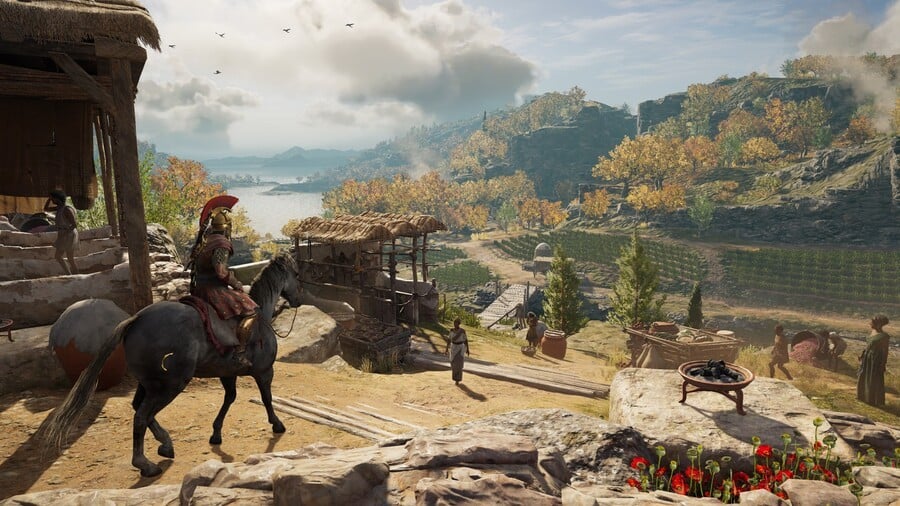 Where can you find orichalcum ore in Assassin's Creed Odyssey? This precious material is the stuff of legends, and can be used in Assassin's Creed Odyssey as a unique currency. You can spend orichalcum ore at Sargon's Oikos of the Olympians shop in Phokis. He's represented on the map by a light blue symbol.
Sargon exchanges epic and legendary level equipment for orichalcum ore. If you have enough, you can buy some very powerful weapons and armour.
How to get orichalcum ore in Assassin's Creed Odyssey
Finding orichalcum ore in Assassin's Creed Odyssey can be tricky. Out in the wild, the ore is quite easy to spot since it glows blue, but actually finding places where it spawns is a lot harder. Generally speaking, it appears in hard-to-reach locations, like right at the edge of an island, or up on top of a mountain. Head off deep into the wilderness and you should eventually come across some, and then you can gather it just like any other material.
The best way to find orichalcum in Assassin's Creed Odyssey in bulk, however, is through completing special contracts. Visit a quest board in a town, or take a look at the one on your ship, and there may be a quest with a light blue symbol next to it. This means that upon completion of the contract, you're rewarded with orichalcum. The downside to this is that these quests only appear at set times -- usually once a week.
Fortunately, there are sometimes smaller contracts that also reward you with orichalcum. Like special contracts, they appear on notice boards, and are again marked with the light blue symbol. As such, it's always best to check the nearest quest board, just in case there's something new.
---
Looking for more help with Assassin's Creed Odyssey? Check out or full skills and abilities guide for advice on how to spend your skill points. Or see our full mercenaries guide for tips on how to get the best out of the game's toughest enemies. And if you're brand new to the game, take a look at our beginner's guide for useful hints and tricks.
For smaller guides, here's how to drop bodies in Assassin's Creed Odyssey, and here's how to switch between day and night. If you want to get stronger, here's how to level up in Assassin's Creed Odyssey.