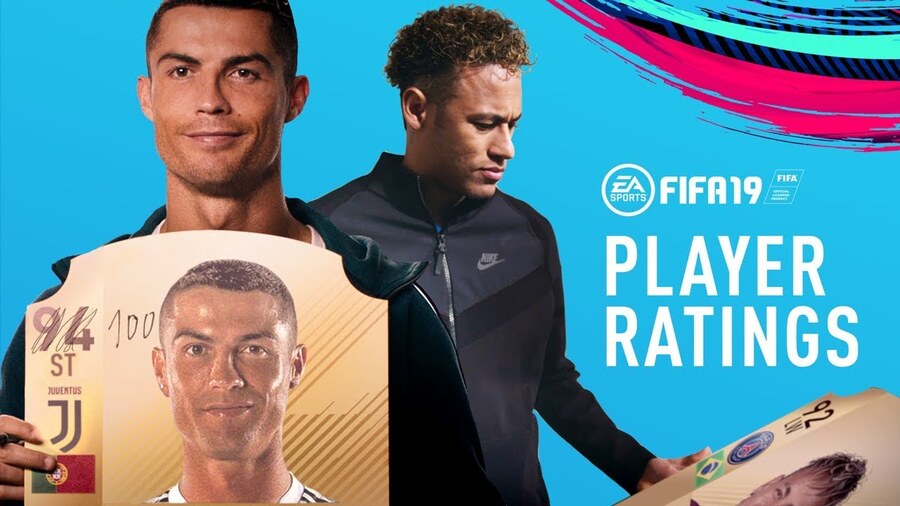 The top 100 players in FIFA 19 have been ranked, and the full list makes for some interesting reading.
Below, we've listed all 100 players in descending order, along with their position, current club, and overall rating in FIFA 19.
The overall rating itself is based on a number of different statistics. Aside from goalkeepers, all players have six general stats (again, made of lesser stats) that contribute to their overall rating: Pace, Shot, Passing, Dribbling, Defending, and Physicality. Goalkeepers have Diving, Handling, Kicking, Reflexes, Speed, and Positioning.
Without further ado, here are the top 100 players in FIFA 19 ranked.
| Rank | Player Name | Position | Current Club | FIFA 19 Rating |
| --- | --- | --- | --- | --- |
| 100 | Kostas Manolas | Centre Back | Roma | 85 |
| 99 | Riyad Mahrez | Right Winger | Manchester City | 85 |
| 98 | Zlatan Ibrahimovic | Striker | LA Galaxy | 85 |
| 97 | Raheem Sterling | Right Winger | Manchester City | 85 |
| 96 | Blaise Matuidi | Central Defensive Midfielder | Juventus | 85 |
| 95 | Marco Asensio | Left Winger | Real Madrid | 85 |
| 94 | Sergej Milinkovic-Savic | Centre Midfielder | Lazio | 85 |
| 93 | Joshua Kimmich | Right Back | Bayern Munich | 85 |
| 92 | Edin Dzeko | Striker | Roma | 85 |
| 91 | Koke | Left Midfielder | Athletico Madrid | 85 |
| 90 | Marco Reus | Left Midfielder | Borussia Dortmund | 85 |
| 89 | Filipe Luis | Left Back | Athletico Madrid | 85 |
| 88 | Vincent Kompany | Centre Back | Manchester City | 85 |
| 87 | Arjen Robben | Right Midfielder | Bayern Munich | 85 |
| 86 | Alisson | Goalkeeper | Liverpool | 85 |
| 85 | David Alaba | Left Back | Bayern Munich | 85 |
| 84 | Fabinho | Central Defensive Midfielder | Liverpool | 85 |
| 83 | Arturo Vidal | Central Defensive Midfielder | Barcelona | 85 |
| 82 | Virgin van Dijk | Centre Back | Liverpool | 85 |
| 81 | Diego Costa | Striker | Athletico Madrid | 85 |
| 80 | Radja Nainggolan | Centre Midfielder | Inter Milan | 85 |
| 79 | Alex Sandro | Left Back | Juventus | 86 |
| 78 | Medhi Benatia | Centre Back | Juventus | 86 |
| 77 | Daniel Parejo | Centre Midfielder | Valencia | 86 |
| 76 | Nemanja Matic | Central Defensive Midfielder | Manchester United | 86 |
| 75 | Douglas Costa | Left Midfielder | Juventus | 86 |
| 74 | Cesar Azpilicueta | Centre Back | Chelsea | 86 |
| 73 | Naldo | Centre Back | Schalke | 86 |
| 72 | Fernandinho | Central Defensive Midfielder | Manchester City | 86 |
| 71 | Miralem Pjanic | Central Midfielder | Juventus | 86 |
| 70 | Leroy Sane | Left Winger | Manchester City | 86 |
| 69 | Leonardo Bonucci | Centre Back | Juventus | 86 |
| 68 | Jerome Boateng | Centre Back | Bayern Munich | 86 |
| 67 | Thomas Muller | Centre Forward | Bayern Munich | 86 |
| 66 | Ederson | Goalkeeper | Manchester City | 86 |
| 65 | Roberto Firmino | Centre Forward | Liverpool | 86 |
| 64 | Marco Verratti | Centre Midfielder | PSG | 86 |
| 63 | Nicolas Otamendi | Centre Back | Manchester City | 86 |
| 62 | Thiago | Centre Midfielder | Bayern Munich | 86 |
| 61 | Mesut Ozil | Central Attacking Midfielder | Arsenal | 86 |
| 60 | Sadio Mane | Left Winger | Liverpool | 86 |
| 59 | Ivan Perisic | Left Midfielder | Inter Milan | 86 |
| 58 | Raphael Varane | Centre Back | Real Madrid | 86 |
| 57 | Ciro Immobile | Striker | Lazio | 87 |
| 56 | Alexis Sanchez | Left Winger | Manchester United | 87 |
| 55 | Kalidou Koulibaly | Centre Back | Napoli | 87 |
| 54 | Dries Mertens | Centre Forward | Napoli | 87 |
| 53 | Mauro Icardi | Striker | Inter Milan | 87 |
| 52 | Keylor Navas | Goalkeeper | Real Madrid | 87 |
| 51 | Pierre-Emerick Aubameyang | Striker | Arsenal | 87 |
| 50 | Iniesta | Centre Midfielder | Vissel Kobe | 87 |
| 49 | Jordi Alba | Left Back | Barcelona | 87 |
| 48 | Jan Vertonghen | Centre Back | Tottenham | 87 |
| 47 | Samuel Umtiti | Centre Back | Barcelona | 87 |
| 46 | Marek Hamsik | Centre Midfielder | Napoli | 87 |
| 45 | Romelu Lukaku | Striker | Manchester United | 87 |
| 44 | Ivan Rakitic | Centre Midfielder | Barcelona | 87 |
| 43 | Pique | Centre Back | Barcelona | 87 |
| 42 | Kylian Mbappe | Right Winger | PSG | 87 |
| 41 | Thiago Silva | Centre Back | PSG | 88 |
| 40 | Lorenzo Insigne | Left Winger | Napoli | 88 |
| 39 | Samir Handanovic | Goalkeeper | Inter Milan | 88 |
| 38 | Gonzalo Higuain | Striker | AC Milan | 88 |
| 37 | Casemiro | Centre Midfielder | Real Madrid | 88 |
| 36 | James Rodriguez | Central Attacking Midfielder | Bayern Munich | 88 |
| 35 | Gianluigi Buffon | Goalkeeper | PSG | 88 |
| 34 | Christian Eriksen | Central Attacking Midfielder | Tottenham | 88 |
| 33 | Paul Pogba | Centre Midfielder | Manchester United | 88 |
| 32 | Sergio Busquets | Central Defensive Midfielder | Barcelona | 88 |
| 31 | Gareth Bale | Right Winger | Real Madrid | 88 |
| 30 | Coutinho | Left Winger | Barcelona | 88 |
| 29 | Hugo Lloris | Goalkeeper | Tottenham | 88 |
| 28 | Marcelo | Left Back | Real Madrid | 88 |
| 27 | Mohamed Salah | Right Winger | Liverpool | 88 |
| 26 | Isco | Central Attacking Midfielder | Real Madrid | 89 |
| 25 | ter Stegen | Goalkeeper | Barcelona | 89 |
| 24 | David Silva | Central Attacking Midfielder | Manchester City | 89 |
| 23 | Mats Hummels | Centre Back | Bayern Munich | 89 |
| 22 | Edison Cavani | Striker | PSG | 89 |
| 21 | Paulo Dybala | Central Attacking Midfielder | Juventus | 89 |
| 20 | Sergio Aguero | Striker | Manchester City | 89 |
| 19 | Giorgio Chiellini | Centre Back | Juventus | 89 |
| 18 | Antoine Griezmann | Striker | Athletico Madrid | 89 |
| 17 | Harry Kane | Striker | Tottenham | 89 |
| 16 | N'Golo Kante | Central Defensive Midfielder | Chelsea | 89 |
| 15 | Jan Oblak | Goalkeeper | Athletico Madrid | 90 |
| 14 | Thibaut Courtois | Goalkeeper | Real Madrid | 90 |
| 13 | Diego Godin | Centre Back | Athletico Madrid | 90 |
| 12 | Manuel Neuer | Goalkeeper | Bayern Munich | 90 |
| 11 | Robert Lewandowski | Striker | Bayern Munich | 90 |
| 10 | Toni Kroos | Centre Midfielder | Real Madrid | 90 |
| 9 | David De Gea | Goalkeeper | Manchester United | 91 |
| 8 | Luis Suarez | Striker | Barcelona | 91 |
| 7 | Sergio Ramos | Centre Back | Real Madrid | 91 |
| 6 | Eden Hazard | Left Winger | Chelsea | 91 |
| 5 | Kevin De Brunye | Central Attacking Midfielder | Manchester City | 91 |
| 4 | Luka Modric | Centre Midfielder | Real Madrid | 91 |
| 3 | Neymar Jr. | Left Winger | PSG | 92 |
| 2 | Lionel Messi | Centre Forward | Barcelona | 94 |
| 1 | Cristiano Ronaldo | Striker | Juventus | 94 |