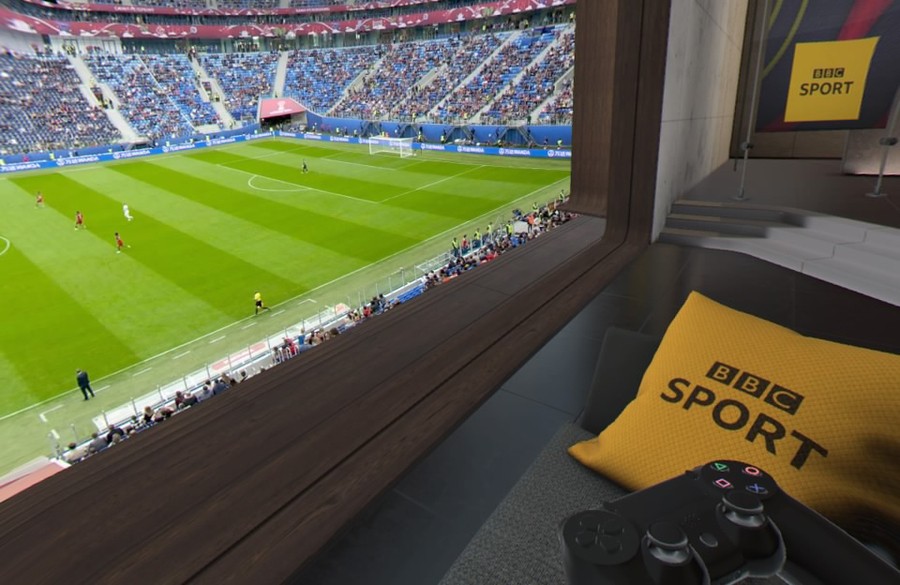 When the BBC announced that it would be broadcasting the World Cup in virtual reality this year, we expected a novelty experience akin to PlayStation VR's Cinematic Mode, where you're placed inside a swish interactive environment with the game playing on a television screen larger than the one in Cristiano Ronaldo's guest room.
The reality, if you'll excuse the pun, is far beyond that. Available only in the UK, a new app allows you to actually take the trip to Russia, and sit in one of the executive suites or behind the goals to get a life-like view of the action. The resolution isn't the best, perhaps owing to the limitations of Sony's headset as well as the cameras that the BBC's using, but the effect is impressive.
This is a far cry from your usual 360-degree video streams: there's depth to the image that gives the scene distance, whichever seat you select. We were able to watch Luis Suarez crash a free-kick directly into Egypt's stubborn wall in Uruguay's narrow win earlier today; we even saw the divisive Barcelona striker's tame effort hit the side-netting – something that commentator Jonathan Pearce missed.
It's not perfect: the behind-the-goal seats don't really give you the best view of the game, while the resolution issues mean it can be difficult to distinguish between the players at the far end of the field from the executive box. But the sense of place is very impressive: you can watch locals shuffling about to fetch food and drinks; you can see the managers strut around in their technical areas.
There's an option to pull up a separate television screen, so that you can complement the live action with the BBC's television coverage, providing you with replays and a clearer (albeit flat) view of what's happening on the pitch. There's also the time and date incorporated into the UI, although oddly enough no match clock or score overlay, something that could have been easily implemented into the virtual space.
Nevertheless, this does feel like a hint at the future of sports. It's obviously not overly social so it's the kind of thing you're going to want to use primarily when you're on your own, but the immersion is unparalleled. With higher resolution headsets and continued investment in the technology, we could be in for something special come Qatar 2022 – and particularly in 2026 in the USA.
---
You can find out how to watch the World Cup with PSVR through the link. Have you tried it out yet? What are your impressions? Hope for some better matches in the comments section below.