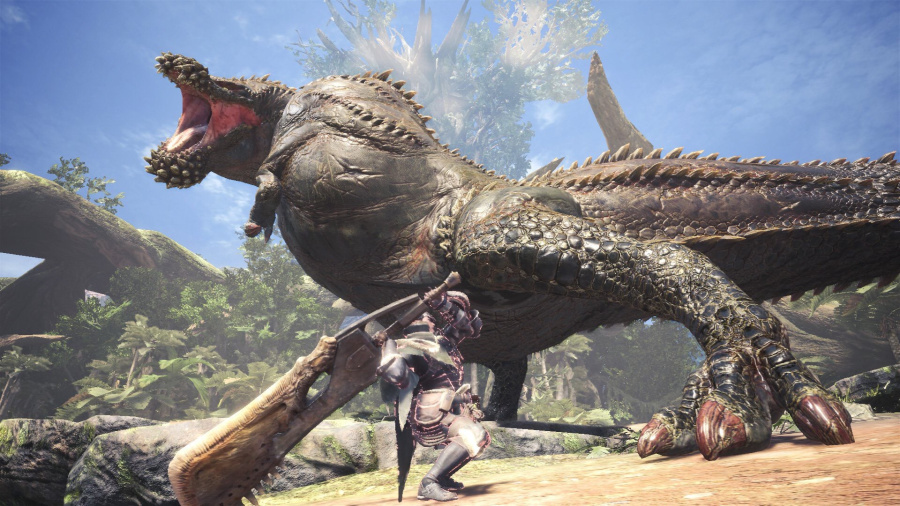 Capcom has just concluded a lengthy live stream, announcing details of upcoming updates for Monster Hunter: World. The first major patch to hit the game will be live in about a week's time, on 22nd March.
The headline addition in this update is a new monster named Deviljho, who promises to be a challenging foe for players who have long mastered the existing roster. In the live stream, we saw the giant creature pick up a Great Jagras like it was a toy, smashing it aggressively into the ground. Known as The World Eater, Deviljho clearly will be a tricky beast to fell. The patch is also said to re-balance the game's weapons, but details on this have yet to be made available.
April brings with it a whole range of new content to Monster Hunter: World, too. It starts on the 6th, when the Spring Blossom Fest event begins. This will bring an all-new look to the hub and will include daily rewards as it runs through to the 19th April. Also on the 6th, we'll see the Wyvern Ignition great sword added to the game. This weapon is the winner of a competition that saw fans creating original weaponry. Finally, starting on 13th April, the pixelated Mega Man armour set for your Palico will be available.
Are you excited for this new slate of content for Monster Hunter: World? Sharpen your thoughts in the comments below.
Update: Capcom has gone over all the new updates in a blog post. One extra detail worth noting is the introduction of Character Edit Vouchers, which will allow you to change your hunter's gender and appearance. Every player will get one voucher for free on 22nd March, and further vouchers will be available to purchase at a later date.
Update #2: Details on weapon balance changes have been made available. You can find all the notes through here.
[via twitter.com, capcom-unity.com]