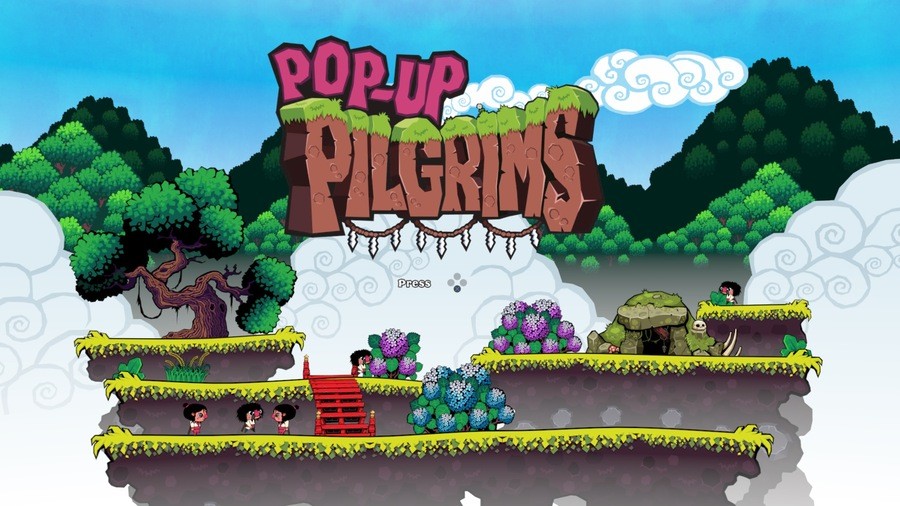 It's only when you've been doing this job for a few years that you build up a library of games in your mind that many will have forgotten. For some reason, Floating Cloud God Saves the Pilgrims is one title that this author remembers well. The Dakko Dakko developed curio started life as a PlayStation Mini, but was eventually ported to the PS Vita natively. Now the Welsh developer's back with Pop-Up Pilgrims, a PlayStation VR edition heavily inspired by those 2012 originals. So how does it work?
"We wrap [the level] around you in half a cylinder, and then split out layers into VR depth, and then let you move characters back and forth between those layers," Rhodri Broadbent tells us as we catch up for a chat. "This wrap-around 2D style forms the basis of the gameplay, allowing you to look from your left to your right and see the whole stage. One big advantage of this is that we get to make wide, deep stages and let the gameplay happen across the whole level at the same time."
Of course, working with 2D assets in a virtual reality environment is no easy task. "The wrap-around idea was one of the first decisions made about the game, but getting it right, allowing the player to move in and out, and working out how much movement the player will need was very challenging," he adds. "I am most proud of the bosses I think. There are a couple of them that really go overboard with the use of layered 2D sprites which as a technique looked great in classic games like Space Harrier but looks even more amazing in fully stereoscopic VR."
And for Rhodri, it was that challenge of working in a new medium like virtual reality that formed a big part of the project's appeal. "In game development I think it's fair to say that we are used to new technology leading to new gameplay possibilities, and VR is just one more example of that," he explains. "Everything is new and exciting when you are working in VR even if you've made a lot of games already, and some things that have become established simply don't work, forcing people to try new things."
As for Pop-Up Pilgrims, the developer is excited for PSVR owners to try it out. "It's very impactful to see an entirely 2D stage broken out into curved 3D and to be able to look all around it and get up close to the sprites," he concludes. "I think the controls are very elegant but because the action can get quite hectic, it's good that you don't have to worry about multiple buttons, only about which pilgrim is where and what dangers they face."
---
We'll have a full review and gameplay footage soon. In the meantime, we'd like to thank Rhodri for taking the time to talk to us.