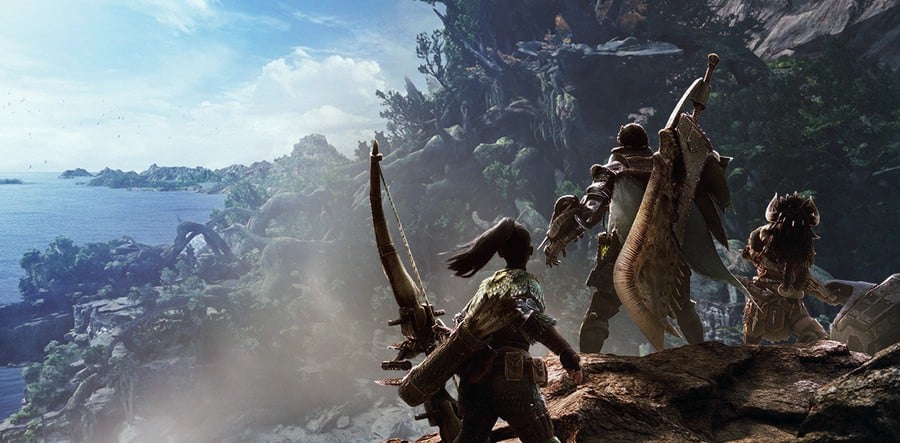 Welcome to the latest instalment in our Monster Hunter: World weapons crafting guide. This one focuses on the Lance, the weapon of choice for those of you that favour defense above all else.
With the Lance you'll generally keep your guard up at all times, prodding the monster with your big stick whenever the opportunity presents itself.
If that sounds like you, read on for our complete list of Lances in the game, including all upgrade trees, and how to craft each one of them.
Lance
Ore Tree
Weapons
Materials Required
Base Attack
Jewel Slots
Iron Lance I
Iron Ore
184
0
Iron Lance II
Iron Ore x 2
207
0
Iron Lance III
Earth Crystal x 2 / Machalite Ore x 2 / Iron Ore x 5
230
0
Steel Lance I
Dragonite Ore x 2 / Machalite Ore x 5 / Monster Bone M x 2
253
0
Steel Lance II
Monster Bone+ x 2 / Dragonite Ore x 5 / Coral Crystal x 2 / Machalite Ore x 10
299
0
Steel Lance III
Carbalite Ore x 8 / Dragonite Ore x 5 / Dragonvein Crystal x 2
322
1

Chrome Lance I
Fucium Ore x 8 / Carbalite Ore x 5 / Dragonite Ore x 10 / Dragonvein Crystal x 3
368
1
Chrome Lance II
Elder Dragon Blood x 2 / Firecell Stone / Carbalite Ore x 20 / Fucium Ore x 13
414
2
Nergigante Tree
| Weapons | Materials Required | Base Attack | Jewel Slots |
| --- | --- | --- | --- |
| Nergal Impaler | Nergigante Carapace x 2 / Nergigante Regrowth Plate x 4 / ??? / ??? | 460 | 1 |
| Perdition's Hand | Nergigante Gem / Nergigante Horn+ x 5 / Nergigante Talon x 5 / Xeno'jiiva Horn x 2 | 483 | 1 |
Legiana Tree
Weapons
Materials Required
Base Attack
Jewel Slots
Glacial Lance I
Legiana Claw x 3 / Legiana Scale x 4 / Frost Sac x 2
299
0
Glacial Lance II
Legiana Plate / Legiana Claw x 4 / Legiana Tail Webbing x 3 / Paolumu Wing x 4
322
0
Legiana Halberd I
Freezer Sac x 2 / Legiana Claw+ x 3 / Legiana Scale+ x 5 / Legiana Wing x 3
345
0

Legiana Halberd II
Daora Claw+ x 2 / Legiana Claw+ x 5 / Legiana Gem / Legiana Hide+ x 3
368
0
Kulu-Ya-Ku Tree
| Weapons | Materials Required | Base Attack | Jewel Slots |
| --- | --- | --- | --- |
| Kulu Lance I | Kulu-Ya-Ku Beak / Kulu-Ya-Ku Hide x 2 / Kulu-Ya-Ku Scale x 3 | 253 | 0 |
| Kulu Lance II | Radobaan Scale x 3 / Kulu-Ya-Ku Beak x 2 / Kulu-Ya-Ku Plume x 2 / Boulder Bone x 3 | 276 | 0 |
| Kulu Lance III | Odogaron Claw x 2 / Kulu-Ya-Ku Beak x 2 / Kulu-Ya-Ku Plume x 4 / Warped Bone x 3 | 299 | 0 |
| Kulu Hasta I | Kulu-Ya-Ku Beak+ x 3 / Kulu-Ya-Ku Hide+ x 4 / Kulu-Ya-Ku Scale+ x 6 | 345 | 0 |
| Kulu Hasta II | Brutal Bone x 3 / Kulu-Ya-Ku Beak+ x 4 / Kulu-Ya-Ku Plume+ x 3 / Odogaron Claw+ x 2 | 368 | 0 |
| Kulu Hasta III | Bird Wyvern Gem / Kulu-Ya-Ku Beak+ x 5 / Kulu-Ya-Ku Plume+ x 4 / Nergigante Talon x 2 | 391 | 0 |
Dodogama Tree
Weapons
Materials Required
Base Attack
Jewel Slots

Gama Pilebunker I
Dodogama Hide+ x 4 / Dodogama Scale+ x 6 / Dodogama Talon x 4
368
2
Gama Pilebunker II
Dodogama Jaw x 4 / Dodogama Tail x 3 / Fire Dragon Scale+ x 4 / Wyvern Gem
391
2
Thunder Element Tree
| Weapons | Materials Required | Base Attack | Jewel Slots |
| --- | --- | --- | --- |
| Thunder Lance I | Dragonite Ore x 5 / Tobi-Kadachi Electrode / Tobi-Kadachi Claw x 2 / Electro Sac | 276 | 0 |
| Thunder Lance II | Monster Bone+ x 2 / Tobi-Kadachi Electrode x 2 / Tobi-Kadachi Membrane x 2 / Coral Crystal x 3 | 322 | 0 |
| Lightning Spire I | Carbalite Ore x 5 / Tobi-Kadachi Pelt+ x 3 / Tobi-Kadachi Scale+ x 4 / Vespoid Innerwing x 3 | 368 | 1 |
| Lightning Spire II | Fucium Ore x 5 / Thunder Sac x 3 / Tobi-Kadachi Membrane x 4 / Tobi-Kadachi Electrode+ x 2 | 391 | 1 |
| Lightning Spire III | Elder Dragon Blood x 3 / Tobi-Kadachi Claw+ x 6 / Tobi-Kadachi Electrode+ x 4 / Wyvern Gem | 414 | 1 |
Pukei-Pukei Tree
Weapons
Materials Required
Base Attack
Jewel Slots

Blooming Lance I
Pukei-Pukei Quill x 2 / Pukei-Pukei Scale x 3 / Poison Sac
230
0
Blooming Lance II
Coral Crystal x 3 / Pukei-Pukei Sac x 2 / Pukei-Pukei Shell x 3 / Pukei-Pukei Tail
253
0
Blooming Lance III
Monster Bone+ x 2 / Pukei-Pukei Quill x 4 / Pukei-Pukei Sac x 2 / Poison Sac x 2
299
0
Datura Pike I
Pukei-Pukei Scale+ x 3 / Pukei-Pukei Wing x 2 / Toxin Sac x 2 / Quality Bone x 3
345
2
Datura Pike II
Monster Hardbone x 3 / Pukei-Pukei Wing x 3 / Pukei-Pukei Carapace x 5 / Toxin Sac x 2
368
2
Datura Pike III
Bird Wyvern Gem / Pukei-Pukei Sac+ x 4 / Pukei-Pukei Wing x 6 / Vaal Hazak Wing x 2
391
2
Rathalos Tree
Weapons
Materials Required
Base Attack
Jewel Slots
Flame Lance I
Rathalos Scale / Rathalos Webbing x 2 / Flame Sac x 2 / Rathalos Marrow
299
0
Flame Lance II
Rathalos Scale x 6 / Rathalos Tail x 2 / Rathalos Plate / Inferno Sac x 3
322
1
Red Tail
Rathalos Carapace x 4 / Rathalos Medulla / Rathalos Scale+ x 6 / Rathalos Wing x 2
391
1

Blue Tail
Azure Rathalos Carapace x 4 / Azure Rathalos Scale+ x 6 / Azure Rathalos Wing x 3 / Rathalos Ruby
414
1
Blue Prominence
Azure Rathalos Scale+ x 8 / Azure Rathalos Tail x 3 / Rathalos Ruby / Teostra Horn+ x 2
437
1
Bone Tree
| Weapons | Materials Required | Base Attack | Jewel Slots |
| --- | --- | --- | --- |
| Bone Lance I | Monster Bone S | 207 | 0 |
| Bone Lance II | Monster Bone S x 2 | 230 | 0 |
| Bone Lance III | Monster Bone M x 2 / Ancient Bone | 253 | 0 |
| Hard Bone Lance I | Monster Bone L / Monster Bone M x 5 / Boulder Bone x 2 | 322 | 0 |
| Hard Bone Lance II | Monster Bone+ x 2 / Monster Bone L / Sturdy Bone x 4 | 345 | 0 |
| Hard Bone Lance III | Monster Keenbone x 2 / Monster Bone+ x2 / Quality Bone x 2 | 368 | 3 |
| Heavy Bone Lance I | Monster Hardbone x 4 / Monster Keenbone x 6 / Quality Bone x 10 | 391 | 1 |
| Heavy Bone Lance II | Elder Dragon Bone x 4 / Monster Hardbone x 6 / Quality Bone x 20 / Dragonbone Relic | 437 | 1 |
Vaal Hazak Tree
Weapons
Materials Required
Base Attack
Jewel Slots

Hazak Wächter
Deceased Scale x 6 / Vaal Hazak Fang+ x 5 / Vaal Hazak Membrane x 4 / Vaal Hazak Talon x 4
437
1
Love's Sorrow
Vaal Hazak Gem / Vaal Hazak Tail x 2 / Vaal Hazak Talon x 6 / Xeno'jiiva Veil x 3
460
1
Hornetaur Tree
| Weapons | Materials Required | Base Attack | Jewel Slots |
| --- | --- | --- | --- |
| Taurus Lance I | Hornetaur Shell x 3 / Hornetaur Wing x 2 / Monster Fluid x 2 | 276 | 0 |
| Taurus Lance II | Odogaron Fang x 2 / Hornetaur Shell x 5 / Hornetaur Wing x 4 / Hornetaur Head x 2 | 299 | 0 |
| Dark Stinger I | Hornetaur Carapace x 5 / Hornetaur Innerwing x 4 / Monster Broth x 2 / Dragonvein Crystal x 3 | 322 | 1 |
| Dark Stinger II | Azure Rathalos Wing x 2 / Hornetaur Carapace x 5 / Hornetaur Innerwing x 4 / Novacrystal | 345 | 1 |
| Dark Stinger III | Hornetaur Carapace x 8 / Hornetaur Innerwing x 6 / Vaal Hazak Fang+ x 3 / Wyvern Gem | 368 | 1 |
Barroth Tree
Weapons
Materials Required
Base Attack
Jewel Slots

Carapace Lance I
Barroth Claw / Barroth Shell x 3 / Barroth Ridge x 2
253
0
Carapace Lance II
Dragonite Ore x 3 / Barroth Claw x 2 / Barroth Tail / Kestodon Shell x 3
276
0
Carapace Lance III
Diablos Shell x 3 / Barroth Claw x 4 / Barroth Scalp x 2 / Monster Bone+ x 3
345
0
Barroth Stinger I
Barroth Carapace x 3 / Barroth Claw+ x 2 / Barroth Ridge+ x 2 / Kestodon Carapace x 5
391
1
Barroth Stinger II
Barroth Carapace x 3 / Barroth Claw+ x 4 / Diablos Carapace x 3 / Gastodon Carapace x 5
437
2
Barroth Stinger III
Barroth Claw+ x 5 / Barroth Ridge+ x 5 / Nergigante Horn+ / Wyvern Gem
460
2
Odogaron Tree
Weapons
Materials Required
Base Attack
Jewel Slots
Garon Lance I
Odogaron Claw x 2 / Odogaron Scale x 4 / Odogaron Fang x 2
299
0
Garon Lance II
Quality Bone x 5 / Odogaron Claw x 2 / Odogaron Tail x 2 / Odogaron Plate
322
0
Garon Dhara I
Odogaron Claw+ x 4 / Odogaron Fang+ x 3 / Odogaron Scale+ x 8 / Dragonbone Relic
345
0

Garon Dhara II
Odogaron Claw+ x 6 / Odogaron Fang+ x 5 / Odogaron Gem / Teostra Claw+ x 2
391
0
Water Element Tree
| Weapons | Materials Required | Base Attack | Jewel Slots |
| --- | --- | --- | --- |
| Aqua Horn I | Boulder Bone x 2 / Jyuratodus Shell / Jyuratodus Scale x 3 / Aqua Sac | 253 | 0 |
| Aqua Horn II | Sturdy Bone x 5 / Jyuratodus Fin x 3 / Jyuratodus Fang x 2 / Gajau Skin x 3 | 276 | 0 |
| Aqua Horn III | Monster Bone+ x 2 / Jyuratodus Fang x 4 / Coral Bone x 2 / Gajau Whisker x 3 | 322 | 0 |
| Water Spike I | Quality Bone x 5 / Gajau Scale x 5 / Jyuratodus Carapace x 2 / Jyuratodus Scale+ x 3 | 345 | 1 |
| Water Spike II | Grand Gajau Whisker x 3 / Jyuratodus Fin+ x 4 / Monster Hardbone x 3 / Torrent Sac x 3 | 391 | 1 |
| Water Spike III | Elder Dragon Bone x 4 / Jyuratodus Fang+ x 5 / Jyuratodus Fin+ x 6 / Wyvern Gem | 437 | 1 |
Dragonbone Tree
Weapons
Materials Required
Base Attack
Jewel Slots

Dragonbone Lance I
Ancient Bone x 5 / Boulder Bone x 5 / Coral Bone x 5 / Warped Bone x 5
230
0
Dragonbone Lance II
Monster Bone+ x 6 / Monster Bone L x 8 / Sturdy Bone x 8
253
0
Dragonbone Lance III
Brutal Bone x 4 / Elder Dragon Bone x 10 / Dragonbone Relic x 2 / Wyvern Gem
368
1
Bazelgeuse Tree
| Weapons | Materials Required | Base Attack | Jewel Slots |
| --- | --- | --- | --- |
| Rookslayer Lance | Bazelgeuse Fuse x 4 / Bazelgeuse Scale+ x 5 / Bazelgeuse Talon x 3 / Firecell Stone | 414 | 0 |
| Bazel Myniad Rookslayer | Bazelgeuse Gem / Bazelgeuse Talon x 4 / Bazelgeuse Wing x 4 / Xeno'jiiva Wing x 3 | 460 | 0 |
Kirin Tree
Weapons
Materials Required
Base Attack
Jewel Slots
Thunderpike
Kirin Thunderhorn x 3 / Kirin Hide x 3 / Kirin Tail / Lightcrystal
253
0
Thunderspear
Kirin Azure Horn x 4 / Kirin Hide+ x 5 / Kirin Mane x 4 / Dragonvein Crystal x 5
345
0

Thunderpiercer
Kirin Azure Horn x 6 / Kirin Thundertail x 3 / Xeno'jiiva Shell x 4 / Novacrystal x 2
368
0
Blacksteel Tree
| Weapons | Materials Required | Base Attack | Jewel Slots |
| --- | --- | --- | --- |
| Blacksteel Lance I | Coral Crystal x 10 / Dragonvein Crystal x 10 / Earth Crystal x 10 / Lightcrystal | 230 | 0 |
| Blacksteel Lance II | Firecell Stone / Fucium Ore x 5 / Carbalite Ore x 10 / Wyvern Gem | 253 | 0 |
| Icesteel Spear | Daora Claw+ x 3 / Daora Tail x 2 / Daora Webbing x 4 / Nergigante Carapace x 5 | 391 | 1 |
| Daora's Fang | Daora Claw+ x 4 / Daora Gem / Daora Horn+ x 5 / Xeno'jiiva Wing x 2 | 414 | 1 |
Xeno'jiiva Tree
| Weapons | Materials Required | Base Attack | Jewel Slots |
| --- | --- | --- | --- |
| Xeno Zauta | Xeno'jiiva Claw x 4 / Xeno'jiiva Gem / Xeno'jiiva Shell x 6 / Xeno'jiiva Tail x 2 | 391 | 2 |