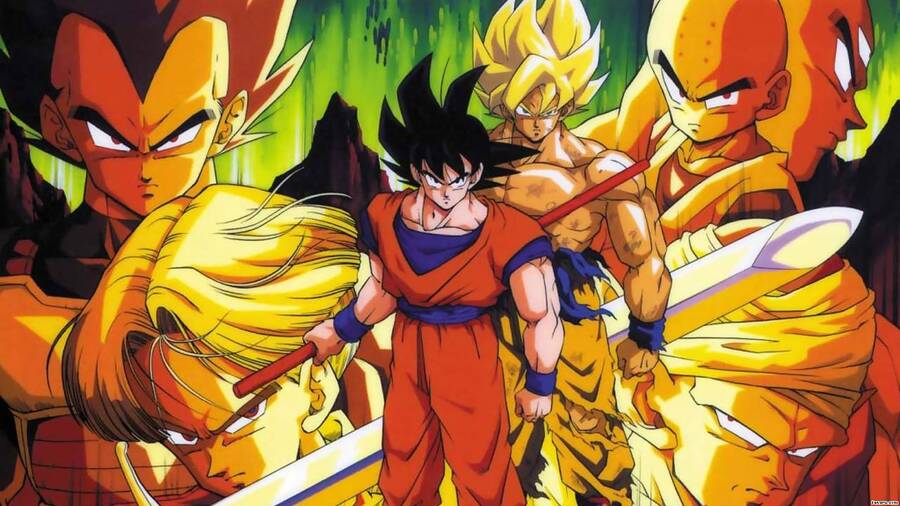 Dragon Ball FighterZ is one heck of a fighting game. It's so good, in fact, that we're really looking forward to the eight additional characters that are coming to the title as downloadable content. At the time of writing, none of the eight characters have been revealed, so we're going to take this opportunity to quickly rattle off ten fighters from across the Dragon Ball universe that we'd love to see make an appearance.
Bardock
First appeared in: Dragon Ball Z: Bardock - The Father of Goku
Goku's old man is a rough and ready low-class Saiyan fighter -- and that's what makes him so appealing as a character. Bardock's all business, not quite a bad guy but certainly not a hero, either. Although his fighting style isn't too different to what we've seen of other Saiyans in Dragon Ball FighterZ, Bardock's got a merciless edge to him that could be explored.
Cooler
First appeared in: Dragon Ball Z: Cooler's Revenge
Frieza's older (and cooler) brother, Cooler is the eldest son of King Cold and a deadly warrior. Much like his little bro, Cooler is able to gain additional power through transformation, and his final form is a sight to behold. Although there are definitely similarities between Cooler and Frieza when it comes to combat, the former opts for a more brutal fighting style -- something that could be a focal point in Dragon Ball FighterZ.
Mr. Satan/Hercule
First appeared in: Dragon Ball Z, Cell Saga
The legendary martial artist himself, Mr. Satan -- or Hercule, depending on which you prefer -- is more comic relief than anything, but he's still a great character. Crowned Earth's greatest hero after he takes the credit for defeating Cell, Mr Satan isn't afraid of fighting dirty here and there -- mostly to make up for the fact that he's incredibly weak when compared to Goku and the gang. Still, as something of a joke character, Mr. Satan could provide a lot of laughs in Dragon Ball FighterZ.
Zarbon
First appeared in: Dragon Ball Z, Frieza Saga
One of Frieza's most skilled soldiers, Zarbon is an incredibly vain character, putting his pursuit of beauty above all else. He may not play a major role in the story of Dragon Ball, but he's easily one of the series' most interesting secondary cast members. in order to unleash his full power, Zarbon is forced to take a much more monstrous form, and naturally, this is something that he hates doing. As such, Zarbon could make for an intruiging addition to Dragon Ball FighterZ.
Master Roshi
First appeared in: Dragon Ball
Master Roshi may not see much action in Dragon Ball Z or Dragon Ball Super, but in the original Dragon Ball, he's one of Earth's most powerful inhabitants. Master Roshi trains both Goku and Krillin in the ways of the Turtle School of martial arts, teaching them the iconic kamehameha technique. When the going gets really rough, Master Roshi is known to rip off his shirt and balloon in size, gaining some serious muscle in the process. He also has an alter-ego in the form of Jackie Chun, which could lead to some great moments in Dragon Ball FighterZ.
Tapion
First appeared in: Dragon Ball Z: Wrath of the Dragon
A main character from one of the more interesting Dragon Ball Z movies, Tapion is a skilled warrior from a distant planet who ends up befriending Goku and the gang in order to stop an ancient monster known as Hirudegarn. Wielding a sword and an ocarina (remind you of anyone?) Tapion is a bit of an outside shout when it comes to additional Dragon Ball FighterZ characters, but he'd definitely bring something different to the table. He could even drag his little brother Minotia along for the ride.
Broly
First appeared in: Dragon Ball Z: Broly - The Legendary Super Saiyan
We couldn't possibly curate this list without including Broly, could we? A fan favourite character, Broly is a Saiyan who, as a baby, was sentenced to death out of fear of his extreme inherent power. Needless to say, Broly survived and eventually clashed with Goku. Unlike Goku, however, Broly is unable to fully control his power, making him a raging beast of a warrior. In Dragon Ball FighterZ, we can imagine him being an overwhelmingly offensive character.
Dabura
First appeared in: Dragon Ball Z, Buu Saga
The king of the demons, Dabura is a fearsome fighter who has more than a few tricks up his sleeve. His spit turns people to stone, and he can summon a powerful blade known as the Darkness Sword when he wants to get stabby. Although his appearance in Dragon Ball Z is relatively brief before a newly awakened Majin Buu turns him into a cookie and eats him, Dabura is shown to be highly skilled warrior. We're sure he'd shine in Dragon Ball FighterZ thanks to his varied abilities.
Jiren
First appeared in: Dragon Ball Super, Tournament of Power Saga
An immensely powerful warrior, Jiren is devoted to justice as a member of the Pride Troopers. He fights to protect his universe and never kills any villains that he defeats in combat. He's calm and calculated, always reading the moves of his enemies and never leaving himself open. Dragon Ball Super is obviously very popular right now, so we imagine that we'll nab at least one DLC character from the series -- and we'd love to see Jiren get the nod.
Jaco
First appeared in: Jaco the Galactic Patrolman
Last but certainly not least, Jaco started life outside of Dragon Ball, starring in his own manga, also drawn and written by Dragon Ball creator Akira Toriyama. Said manga is something of a prequel to the original Dragon Ball in which we're introduced to Jaco, a cheeky intergalactic police officer who gets himself into all kinds of trouble. He's not your typical martial arts warrior, instead relying mostly on specialist equipment and his own quick thinking. Needless to say, he'd make for an entertaining addition to Dragon Ball FighterZ's roster.
---
Now that we've had our say, it's your turn. Which characters would you like to see get added to Dragon Ball FighterZ as DLC? Have we missed out anyone obvious? Vote in our poll, and then give us your own list in the comments section below.
Which character would you most like to see added to Dragon Ball FighterZ? (52 votes)
Please login to vote in this poll.