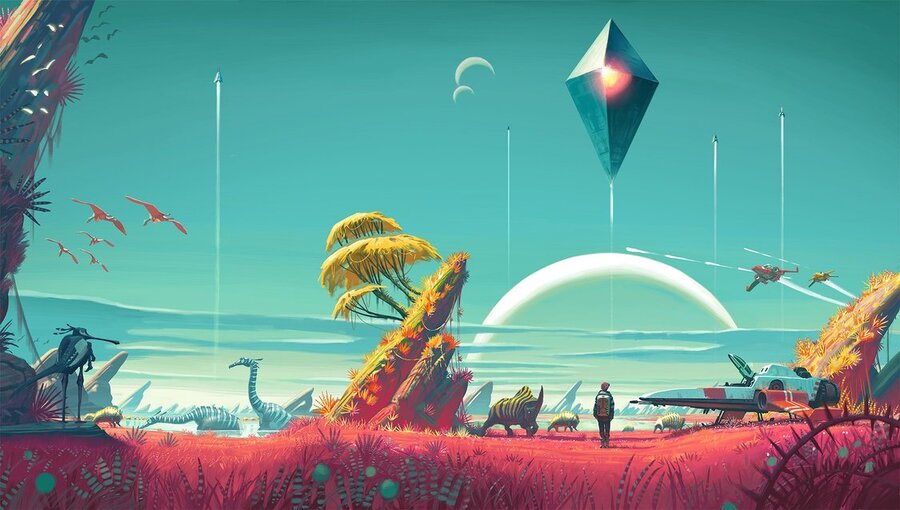 Hey everyone, it's Sammy from Push Squa—and this isn't a video script, you nitwit. I just wanted to update you with regards to the status of our No Man's Sky review. As many of you know, the game is out tomorrow in North America and a day later in Europe, but we won't have a verdict ready for you until later in the week.
This is because review code, as has been made public knowledge, has not been made available to us until the very last minute. Some websites have decided to purchase copies from retailers breaking the street date and cover those instead – that's their prerogative. However, it became clear to us last week that Hello Games had a huge day one patch in the pipeline, and we've decided to review the version that you'll all be playing.
It means that, in order to fully appreciate a game of this scale, we're going to be behind the curve – but we'd rather do a proper job than a rushed one. Many of you will be relying on our opinion to determine whether you should purchase this much anticipated game, and we want to be respectful to both you, and the developer Hello Games, by giving it the attention that it deserves.
We will have coverage for you over the course of the week, so there'll be plenty for you to get your teeth stuck into over the coming days. And while it's a shame that we can't have the review ready on launch day, it's clearly the implications of Blu-ray manufacturing that have hindered Hello Games here, and we're happy to cut the ten-or-so person team a bit of slack.
Please check back throughout the week for much more on No Man's Sky, and we'll see you in the galaxy.
Sammy, Editor