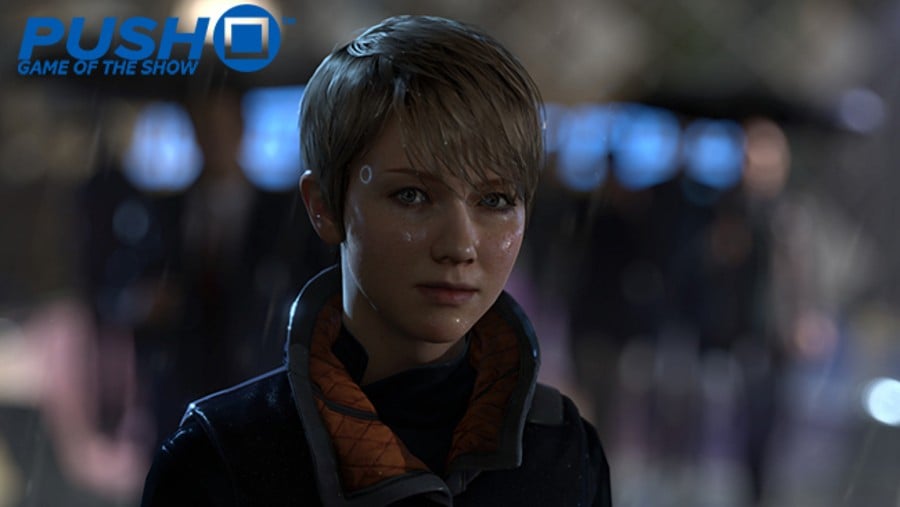 David Cage divides opinion like no other developer. When the French auteur took to Sony's slick Paris Games Week 2015 stage earlier this week, the Push Square press conference live chat was awash with cheers and jeers. Some feel that the French director – who's helmed titles like Heavy Rain and Beyond: Two Souls – is pretentious, while others applaud his ambition. We can probably all at least agree that it's nice to see someone trying something different, and while Detroit: Become Human isn't exactly based upon the most original of premises, it's already looking like a far cry from your average open world collectathon and first-person shooter.
You play as Kara, the very same android from the legendary PlayStation 3 tech demo. For those unfamiliar with the origins of this story, Valorie Curry's alter-ego is a product manufactured in a near-future factory. However, unlike the other cyborgs, she is able to feel human emotions. The game will depict the character's integration into a harsh modern society, which is growing increasingly intolerant of the robot uprising. We're certainly not breaking any new ground here, then, but there is the potential to tell an interesting tale about the human condition – and, in news that will no doubt delight his detractors, Cage is not the sole writer this time around.
We don't know an enormous amount about the gameplay at this early stage, but the developer has hinted that it will follow in the footprints of its previous titles, while still maintaining its own unique voice. There's some speculation that Kara will not be the only character here, as she states that "this is our story" in the debut trailer. Could a human love interest be involved? Will you play as other similar androids? Might there be multiple overlapping storylines like Heavy Rain? The obligatory shower scene aside, you never can be 100 per cent sure with Quantic Dream.
But the details didn't seem to bother you lot, as you voted the awkwardly named adventure as your Paris Games Week 2015 Game of the Show. The poll was incredibly tight, with Horizon: Zero Dawn one vote short of taking things to a tiebreaker, while Gravity Rush 2, WiLD, and Ratchet & Clank all fared favourably as well. That little selection shows just how much variety there is on the PlayStation 4 these days, though, and while we don't expect Detroit: Become Human to be everyone's cup of android fuel, at least it's bringing something marginally different to the routinely laid table.
---
Did Detroit: Become Human give you feels, or were you left cold by Cage's latest? Become a paranoid android in the comments section below.