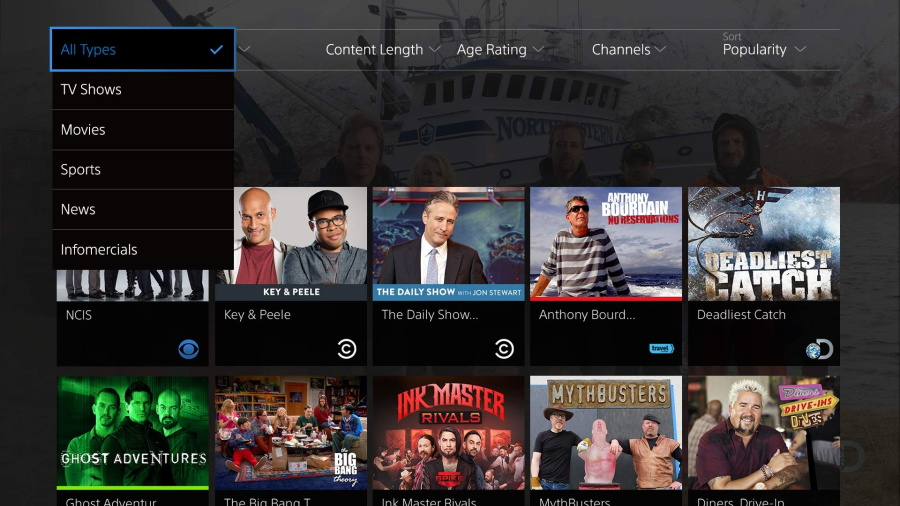 It's been rumoured for what feels like an eternity, but Sony has finally officially unveiled PlayStation Vue today – a cloud-based television service which will allow you to cut the cord on your cable or satellite box, and watch live or on-demand content on your PlayStation 4 or PlayStation 3. A beta will launch this month to select console owners.
To be fair, it sounds like a pretty nifty little service. The system will seamlessly combine live, on-demand, and catch-up television, under a single banner that works with a DualShock controller. Early images show a user interface similar to the one currently used by the PlayStation Store. It'll recommend movies and shows based on your viewing patterns, and will also allow you to easily access the past three days of programming without the need for pre-recording.
Furthermore, you'll be able to save shows to the cloud without storage restrictions or scheduling conflicts, and by tagging your favourite programmes, you'll gain access to all of the episodes from that series anywhere for up to 28 days. Apparently, there'll be 75 channels per market in the beta, with CBS, Fox, NBC, and Viacom all on board in North America. There's no real word yet on how this will be supported in Europe or the UK.
Of course, the catch is that you'll have to pay on a month-by-month basis, but there won't be any contracts like a cable or satellite subscription. Moreover, the platform holder promises that it will carry a "fair and competitive" fee. It's not far away either – apparently, this is set to launch in the first quarter of 2015 in the United States. Again, there's no real firm information on Europe at the time of typing.
On paper, this does seem like an excellent alternative to more traditional television delivery platforms, but the proof is very much going to be in the pudding. Many others have attempted to usurp cable and satellite companies and failed, but in PlayStation, there's no doubt that Sony does at least have a brand and install base big enough to give this a good go.
This could be huge.
[via eurogamer.net, polygon.com, vg247.com]