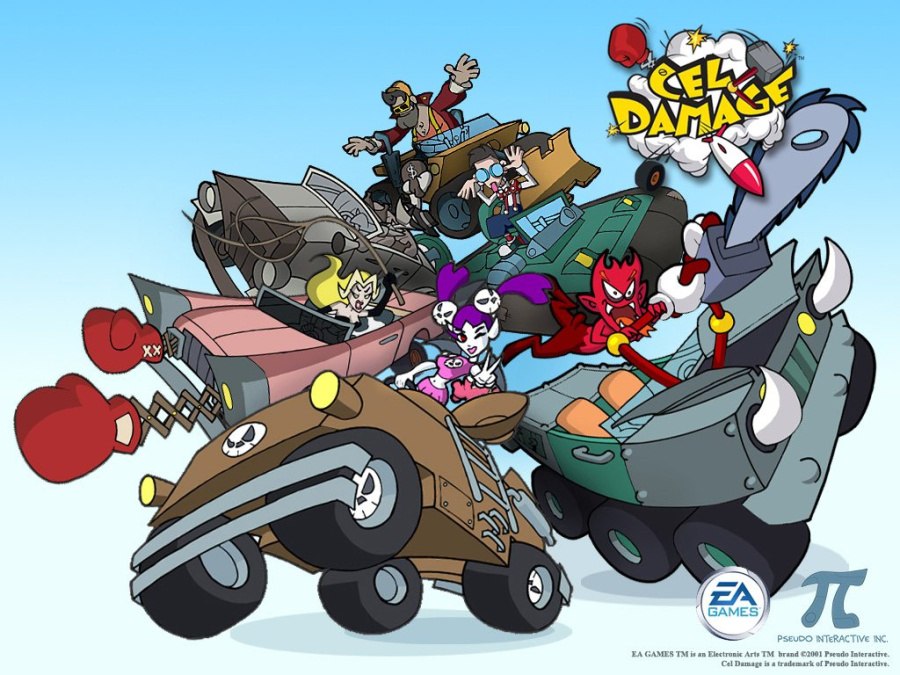 Some high-definition upgrades you can spot a mile off, but we don't think that anyone was expecting cult Twisted Metal-esque car combat game Cel Damage to make the jump to Sony's latest suite of systems. IGN reports that the former PlayStation 2 wreck-'em-up will launch as a cross-buy title across the PlayStation 4, PlayStation 3, and Vita, with a single purchase augmenting you with access to all three versions.
Originally developed by the now defunct Pseudo Interactive, the re-release is being handled by new studio Finish Line Games, which appears to be made up of veterans from the aforementioned outfit. Aside from a fresh lick of paint, it's unclear what the upgrade will add, but the above site states that traditional split-screen multiplayer will make a return in the home console iterations.
"With Cel Damage HD, we're bringing back one of our favourite mash-ups of classic vehicle combat games and cartoon animation to give players the distinct experience of playing as if they are in a cartoon," explained a chipper Daniel Posner. "We are excited to see how modern day fans react to this merging of mediums."
Despite boasting a sharp art style, the original title wasn't especially well received, with many reviews at the time pointing to poor balancing and punishing difficulty. It'll be interesting to see whether the developer addresses any of those concerns for this new version. Still, we won't have long to wait, as the game's set to make a collision with the PlayStation Store in April. Do you have fond memories of this combative cartoon racer? Honk your horn in the comments section below.
Update: While the original title featured ten characters, this remake will boast just six. If you're eager for more statistics, it will also include ten cars, more than 30 power ups, and 13 "vibrant" arenas. Oooh, numbers.
[via uk.ign.com]