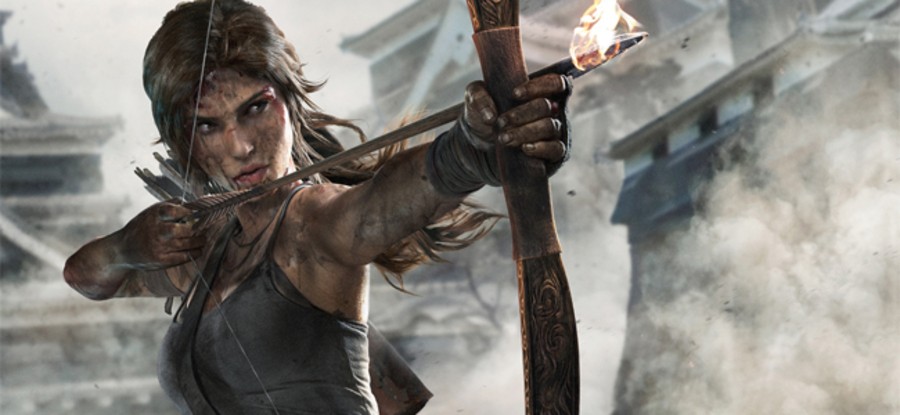 For once, January was a relatively quiet month here at Push Square in terms of reviews. With no real blockbusters bursting onto the PlayStation scene, last month's vote was always going to be a tricky one, as we had to round up titles that some of our staff had never even heard of. But as they say, the show must go on – and so we huddled around our private polling station to cast our judgement.
Perhaps unsurprisingly, Lara Croft's PlayStation 4 debut stole the show, putting an arrow right between Don't Starve's eyes, and casually slaughtering the rest of the competition. A next-gen port of the already great PS3 title, Tomb Raider: Definitive Edition ensnared editor Sammy Barker all over again. "This is an exceptional port of an already entertaining escapade. If you have a perverse penchant for grave robbing, or you've never stepped foot on the strange shores of Yamatai before, then this is an enjoyable band-aid for the emerging next-gen drought," he concluded, and rewarded the strangely-voiced heroine with a score of 8/10.
The only release that even came close to putting a stop to Ms. Croft's rampage was the quirky Don't Starve, which scored a very respectable 7/10 in our review. "Don't Starve may make your stomach rumble in frustration if you're not willing to invest the required time to master its complex systems" warned a cautious Joey Thurmond, although he did go on to say that a combination of "the beautiful art style, entertaining music, and solid gameplay" made the game well worth a look.
Also scaling the ladder of success was Dragon Ball Z: Battle of Z, which brought Akira Toriyama's colourful creation to the PlayStation Vita. While the team-based brawler still didn't quite measure up to the Super Saiyan greatness of the all-time-favourite Budokai 3, it did manage to secure a solid 7/10 in our review. This particular writer surmised that "its team-based twist on the series' typically over the top action is refreshing – if unrefined – and fans will jump at the chance to assemble their favourite fighters and take on the universe's most feared warriors".
Anticipated handheld skate-'em-up OlliOlli also managed to kick-flip its way to a solid score of 7/10. "It's not up to par with the Birdman at his best, but this tiny hawk is still good enough to get you in a flap," penned our ever-witty editor. Unfortunately, while there were a good number of 7s floating around, one disappointing title didn't quite make the cut. Assassin's Creed Liberation HD fell flat due to some "worryingly poor technical performance", and as a result, this saddened author was forced to state that "this killer's blades just aren't sharp enough to go toe-to-toe with her home console brethren", before branding the remaster with a 6/10.
While there seemed to be some sort of impregnable barrier stopping anything from breaking out above an 8, the lower echelons of Push Square's scoring system proved to be a popular destination for many of January's releases. Unlucky reviewer Mat Growcott took the time to investigate point and click adventure The Raven: Legacy of a Master Thief, which didn't quite live up to its lofty name. "The twists and turns are delightful, and the characters are charming – but the glitches are infuriating, and the animation is comical," he wrote before putting an end to the crime spree with a poor score of 4/10. However, things were worse still for Alex Stinton, who endured the horrific Zombeer – a game that now shares our lowest review score of all time along with the utterly rubbish Smash 'N' Survive. The incredibly ugly FPS was shamed as a "complete creative disaster", and was cursed with a sickening 2/10 before being cast into the fires of gaming Hell.
Take a look at our handy list of reviews below, vote for your favourite game of January in our poll, and let us know if you fell in love with Lara all over again in the comments section below.
Robot Rescue Revolution (4/10)
Aabs Animals (5/10)
Backgammon Blitz (7/10)
King Oddball Ends the World (7/10)
Sorcery Saga: Curse of the Great Curry God (8/10)
Assassin's Creed Liberation HD (6/10)
Don't Starve (7/10)
Streetkix Freestyle (3/10)
The Raven: Legacy of a Master Thief (4/10)
The Walking Dead: Season 2, Episode 1 - All That Remains (8/10)
OlliOlli (7/10)
BIT.TRIP Presents: Runner 2 - Future Legend of Rhythm Alien (8/10)
Mahjong World Contest (7/10)
Dragon Ball Z: Battle of Z (7/10)
Adam's Venture Chronicles (5/10)
Forest Legends: The Call of Love (6/10)
Twisted Lands: Shadow Town (5/10)
Zombeer (2/10)
Tomb Raider: Definitive Edition (8/10)
---
What was your favourite game in January? (19 votes)
Dragon Ball Z: Battle of Z
5%
King Oddball Ends the World
0%
Tomb Raider: Definitive Edition
74%
Please login to vote in this poll.