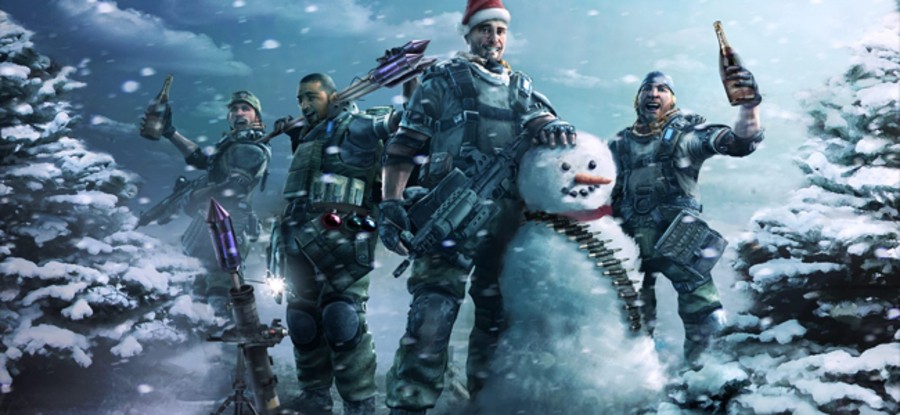 Now that the chaos of Christmas Day is finally over, you can lean into the most enjoyable part of the season: the aftermath. Assuming you've done the sensible thing and avoided the Boxing Day sales, you should have the rest of the week to sit back and enjoy some quality time with your PlayStation 3 and Vita.
Before we ask what you're playing, though, we thought it would be fun to see what the rest of the Push Square crew has planned for the holiday. We dragged the following team members away from their turkey sandwiches in order to find out what's on their festive schedule.
Sammy Barker, Associate Editor: "To be honest, I've got so much to play over the Christmas break that I don't really know where to start. I've amassed an enormous backlog in both my Blu-ray cabinet and on my PS3's hard drive. I think top of the agenda is Tokyo Jungle. I've played a little bit of the game, but I haven't had chance to properly get into to it yet. I've also got Jet Set Radio and Dyad to enjoy, neither of which I've really touched since downloading them.
"On the retail front, I'm really looking forward to sitting down with some of the games I missed this year. I've got Max Payne 3, Tekken Tag Tournament 2, and Need for Speed: Most Wanted to play. I also intend to go through at least one of Resident Evil 6's campaigns – probably Leon's – because I'm eager to see why that game has reviewed so poorly around the 'net.
"Of course, when I'm not plonked in front of the television, I'll probably be fiddling around with my Vita. I'm quite happy with the selection of pick-up-and-play titles I've amassed in recent weeks, so I'll definitely be wasting time with Jetpack Joyride and Flying Hamster HD. I've also got a few PlayStation Plus freebies to try, with Big Sky Infinity and Mortal Kombat both vying for my attention.
"With so much to play, I'm not really sure how I'm going to fit everything in. I've still got copies of 007 Legends and LittleBigPlanet Karting that I'd like to finish as well. The rest of this week is definitely going to be devoted to video games – but I'm sure I'll squeeze in the odd festive run at some point, too."
Mike Mason, Assistant Editor: "I hope to find a copy of Dishonored stashed away under my tree this year. If I do, I'll be stealthing my way through the rest of the holidays I reckon. I may also finally get the chance to delve into Gravity Rush!"
Greg Giddens, Reviews Editor: "I've been in the mood for a JRPG for some time now, but haven't had the time to dive in. This break finally gives me the opportunity, and nothing says Christmas to me more than Final Fantasy VII. It's a title that I go back to time and time again.
"I once changed the colour of the text and text boxes to red and green in order to represent the season – that must be why I associate the game with the holidays."
Robert Ramsey, Staff Writer: "One of my favourite PS2 games – Dragon Ball Z Budokai 3 – was lucky enough to get an HD re-release this year, and I'll finally have time to blitz through it. I just hope my fond memories of the game stay true. Other than that, a new playthrough of the Mass Effect trilogy is in order, with sprinklings of Dishonored here and there. Will there be time to squeeze in a Christmas Journey, too? Maybe."
Nathan Michalik, Staff Writer: "On Vita I'll be playing Oddworld: Stranger's Wrath. It's an example of a game that's well adapted to Vita's touch interface and offers a unique twist on an older game. The fluid gameplay and excellent use of the touch screen make this one of the best shooters on the platform.
"As for the PlayStation 3, I'll be spending plenty of time with Sonic & All-Stars Racing Transformed. Out of all the kart racing titles in recent history, nothing hits the spot quite like this. The local multiplayer is perfect for stirring up some heated competition when getting together with family on the holiday break."
Now that you know what we're up to, we want to know what you're playing this week. Did you get any new games for Christmas? Are there any titles in your backlog that you're eager to try? Perhaps you have a particular favourite that you revisit every year? Feel free to share your plans in the comments section below.