(PS Vita / PlayStation Vita)
Become a morticulturalist again.
Review
USA Version
Posted by Corbie Dillard
Cherry bomb
If you have an electronic device released in the past few years, there's an extremely good chance that a version of Plants vs. Zombies is available for it. Since its original release back in 2009, the game has become somewhat of a measuring stick by which...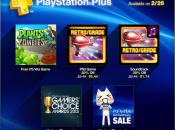 Plus, huge PlayStation Vita discounts
Plants vs. Zombies will bring some much needed vegetation to the Instant Game Collection this week, when the PlayStation Vita version of the quirky strategy game shares its seeds with North American PlayStation Plus subscribers for free. The enjoyable tower defence title will be joined by sharp discounts on...
Hold on there, you need to login to post a comment...