(PS Vita / PlayStation Vita)
Online-only iteration of Capcom's massively popular Monster Hunter series.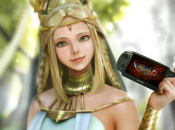 Animal tragic
It's not necessarily the Monster Hunter game that the PlayStation Vita needs to reignite its commercial fortunes, but it's better than nothing: Capcom has confirmed at the Tokyo Game Show that Monster Hunter Frontier G is stomping onto the hard up handheld next year. The subscription-based MMO was announced for the PlayStation 3 a...
Hold on there, you need to login to post a comment...