(PSP / PlayStation Portable)
Description will appear here shortly...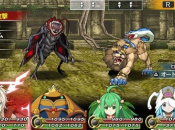 Let loose
XSEED has announced that the localised version of Unchained Blades will be unleashed on the PlayStation Portable next week. The game – built by a dream team of Japanese developers – will be available from the PlayStation Store for $29.99. Unfortunately, XSEED was unable to confirm whether the game will be Vita compatible. It's...
Off the hook
XSEED's uber-niche first person dungeon crawler Unchained Blades is set to slash its way onto the PlayStation Network this spring. The PSP JRPG – created by a star-studded development team – follows the adventure of Fang, a haughty dragon emperor who loses his powers when the goddess Clunea witnesses his arrogance. The game...
Hold on there, you need to login to post a comment...