Legendary beat-'em-up for PSone.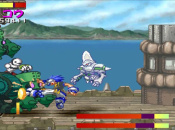 A distinct lack of panzers and bandits
There's no getting away from it: Panzer Bandit is obviously "inspired" by Treasure's seminal SEGA Saturn classic Guardian Heroes. Fortunately, there's far more to Fill-in-Cafe's beat-'em-up than merely imitation for imitation's sake, as what we have here is a stunning game that not only serves...
Hold on there, you need to login to post a comment...