(PS Mobile / PlayStation Mobile)
Cubixx

(PS Mobile / PlayStation Mobile)
Description will appear here shortly...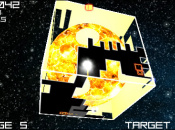 Cut down to size
Laughing Jackal's devilishly addictive Cubixx will be the next title to join Sony's ongoing PlayStation Mobile giveaway next week. The three-dimensional reimagining of arcade classic Qix will replace Beats Slider on Wednesday, and will be available for free for the duration of a week. The puzzler has seen a number of iterations...
Hold on there, you need to login to post a comment...