An epic journey into the unknown!
SteamWorld Dig is a hardcore platform mining adventure game.
Review
PAL Version
Posted by Robert Ramsey
The crud, the slab, and the clunky
Putting you into the shoes of a quirky little mining robot and plopping you into a tiny town with three other eccentric automatons, SteamWorld Dig feels like it's been built using parts that will be familiar to anyone who's played the likes of Terraria or...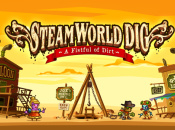 Going underground
The mining genre has launched an unearthly assault on the PlayStation brand over the past few months. While they may have been late to the construction site, the likes of Minecraft, Terraria, and Spelunky have all taken Sony's systems by storm. Next on the rota is SteamWorld Dig, which is set to tunnel its way onto the...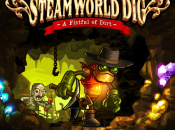 Gem in the rough
Swedish developer Image & Form has announced that its steampunk mining platformer SteamWorld Dig is coming to both the PlayStation 4 and PlayStation Vita. It will be digging a hole in the PlayStation Network next month for €8.99/$9.99. The game will feature cross-buy, meaning that once you purchase it on one console you'll...
Hold on there, you need to login to post a comment...