Transformers: War for Cybertron is a third-person shooter video game developed by High Moon Studios and published by Activision.
Review
PAL Version
Posted by Sammy Barker
Transformers: War For Cybertron is set years before the events of the original cartoon series, commonly referred to as Generation One
Fans of the franchise will know that it's at the start of said series where the Transformers take their fight away from their native land of Cybertron to the energy-ridden plains of Earth. War For Cybertron, as the title suggests, is set entirely on the...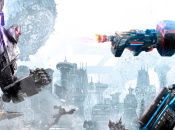 Cullen your name
Video games are quite the unpredictable bunch. Dark horses like Batman: Arkham Asylum and Middle-earth: Shadow of Mordor will come out of nowhere as surprising Game of the Year contenders, while shocking letdowns such as Assassin's Creed Unity and The Order: 1886 will leave gamers pondering where their promise and potential went...
Hold on there, you need to login to post a comment...