Description will appear here shortly...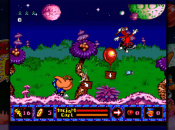 Hum the bassline
ToeJam & Earl's frantic hunt for spaceship parts will continue on the PlayStation Network next month, when the SEGA Mega Drive classic arrives on Sony's digital storefront. The original Rogue-like will be joined by its less impressive side-scroller sequel, Panic on Funkotron. You'll be able to purchase the funky...
Hold on there, you need to login to post a comment...