A totally jammin' PSN port of the SEGA Mega Drive classic, ToeJam & Earl.
Jammin'
There may well be heavy hitters such as LittleBigPlanet Karting and When Vikings Attack arriving as part of this week's North American PlayStation Store update – but the undisputed best new addition is ToeJam & Earl. The original SEGA Mega Drive title jives in this week alongside its side-scrolling sequel. Both titles will include...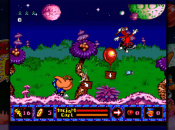 Hum the bassline
ToeJam & Earl's frantic hunt for spaceship parts will continue on the PlayStation Network next month, when the SEGA Mega Drive classic arrives on Sony's digital storefront. The original Rogue-like will be joined by its less impressive side-scroller sequel, Panic on Funkotron. You'll be able to purchase the funky...
Hold on there, you need to login to post a comment...