The classic Dreamcast angling outing buffed into HD with PlayStation Move support.
Review
USA Version
Posted by Nathan Michalik
Dat bass!
Deriving from the old arcade classic, SEGA Bass Fishing isn't a fishing simulator but SEGA's arcade style, user-friendly take on bass fishing. There's not a whole lot to this game other than trying to catch the biggest fish possible in a certain...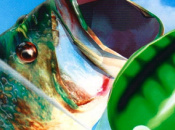 PSN release at last
SEGA is gearing up for a double Move whammy in October: with House of the Dead: Overkill — Extended Cut at the month's end, PS3 owners after something a little more sedate are catered for on 4th October with the digital release of SEGA Bass Fishing. Those aware of the game will know its lengthy history: originally an arcade...
Hold on there, you need to login to post a comment...