Description will appear here shortly...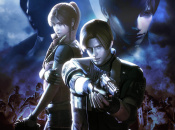 Rise from your grave
Further securing the PlayStation 3's status as the primary platform for rails shooters, Capcom has announced that it is bringing both Resident Evil: The Umbrella Chronicles and Resident Evil: The Darkside Chronicles to the PSN in June, bundled together as Resident Evil: Chronicles HD Collection. Both titles had previously been...
Hold on there, you need to login to post a comment...