Description will appear here shortly...
About flippin' time
The Pinball Arcade will finally fire onto the European PlayStation Store next week. Following a series of setbacks, developer Farsight Studios had promised that the simulation would launch overseas last Wednesday. However, when the title failed to materialise, gamers once again decided to pull out their pitchforks. But in a...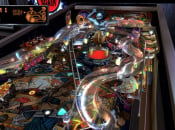 Buy one, get one free
The PlayStation 3 and PS Vita get an extra dose of flip-heavy action next week, with the release of The Pinball Arcade on 10th April. As with other cross-compatible titles, you'll get the console and handheld versions for a single price. Similarly, you'll only need to purchase DLC once to access it on both consoles. The...
Hold on there, you need to login to post a comment...