Description will appear here shortly...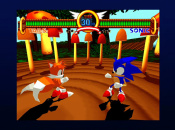 Bleurgh
Quick, cower behind your computer monitors, because the atrocious Sonic the Fighters is heading overseas. We think we've made our feelings fairly clear about the anthropomorphic fighter over the past couple of weeks, but just in case you missed them: this game is rubbish. The awful arcade release will be joined by the not-so-terrible...
Hold on there, you need to login to post a comment...